Drinking Straws Market
Drinking straw is a small cylindrical hollow tube used for consuming a beverage by placing its one end in the mouth and other in the beverage. It can be made up of paper, plastics and many others. Recently, compostable and biodegradable drinking straws are being used due to strict government rules and regulations on the usage of plastic straws. Hence several leading manufacturer are launching paper based and recyclable straws to avoid the pollution through the plastic straws.
For instance recently on 22nd Jan 2020, FrieslandCampina launched paper straws for European products which replaced more than 100 million plastic straws with a more sustainable, paper alternative within a year.
The global drinking straw market valued USD 17,035.26 million in 2019 and it is expected to grow at a CAGR of 23.1%.The global drinking straw market reached 4,85,551.79 million units in 2019 and it is expected to grow at a CAGR of 8.1% to reach 4,95,302.61 million units by 2027.
This exclusive report has Market Snippet by Shape – Straight Drinking Straws || U-shape Drinking Straws || Telescopic Drinking Straws Download Free Sample
Dynamics
The market growth is driven by the blooming food and beverage industry globally with the changing consumers preferences and tastes which has led to the customization of the food and beverage. Market is witnessing the increase in the number of the international and local restaurants, hotels and caf chains which is increasing the demand of drinking straws.
Growing concerns regarding the usage of the environment friendly products are increasing the demand for eco-friendly, natural & organic and reusable straws. Several companies are developing environment friendly biodegradable and renewable products with innovation.
For instance, in September 2019, Ahlstrom-Munksj had launched a new innovative U-shaped drinking straw i.e. celluStraw which is a fiber-based solution made of renewable materials. It is an industry's emerging initiatives to phase out single-use plastic straws.
However, the availability of alternative material such as metal, glass, bamboo, and silicone for producing the drinking straw is hindering the market growth. Use of the plastic straw is impacting the environment, birds, and animals. Around 437 million to 8.3 billion plastic straws are lying on the world's coastlines
Factors Responsible for Plastic Straw demand decline
Most of the developed and developing countries are enacting ban on single use plastic straw along with other single use plastic products. Countries such as UK, China, Australia and some states of United States will ban plastic straw usage by 100% till the end of 2020. Some countries are looking to ban plastic straw usage to 75% by the end of 2021 and some are looking to ban 100% by the end of 2021 including Canada, France, Germany, Italy, India, Switzerland and some other Western European countries.
Some countries are looking to ban all single use plastic straw between 2021 and 2030 including Thailand, Bangladesh, Philippines, Indonesia, etc.
However, there are a large number of developing and undeveloped countries who are focusing on banning plastic bags but not straws including Tajikistan, Afghanistan, Turkmenistan, Laos, Cambodia, Bueno-Aires, most of developing and undeveloped countries of Africa and South America. Some countries in Africa such as Kenya, Morocco has enacted ban on single use plastic but its all on papers and on ground, shops are easily and freely using single use plastic products including bags and straw.
Despite of a complete ban every country's government has the right to provide approval or license for usage of banned product and every country use banned products in small quantities. In UK, 43 million straws will be used post 2020 for various industrial and government purposes in the country where all plastic straw will be banned by October 2020. Similarly a small demand will exist in each country which will make-up the market in future. Also, growing demand form developing and undeveloped countries in future will create new avenues for plastic straw which will be consumed in these countries due to low purchasing power and limited resources for producing & using paper straw.
Market Trends
According to India Brand Equity Foundation, at 13% growth in 2018, the retail industry crossed US$ 950 billion and is forecast to cross US$ 1.1 trillion by 2020. Online retail revenues grow by 31% in 2018 and reached US$ 32.70 billion.
Online shopping sales are expected to hit US$ 60 billion by 2021 in India. India is projected to become the fastest-growing e-commerce market in the world, led by strong industry spending and a steady rise in the number of Internet users. Numerous companies have strong hopes about the development of the e-commerce industry in India. India's Government has taken numerous steps to boost India's retail sector. Via the automatic route, the Government of India has approved 100% FDI in online retailing of products and services, thereby providing clarification on the current businesses of e-commerce firms operating in India.
E-commerce is steadily expanding across the world. At the lowest price's consumers have the ever-increasing variety of goods. E-commerce is currently causing a revolution in the retail sector and this development is expected to grow over the coming years
Drinking Straw Market Segmentation Analysis
The global drinking straw market is segmented based on type as plastic drinking straw and paper drinking straw. Paper drinking straw is expected to have the highest market growth due to rising demand of the paper drinking straw as the packaging industry is witnessing shift towards non-plastic sustainable materials.
Consumers are using the paper drinking straws at home, parties, on-the-go drinks, concession stands, food service, schools, institutional and others.
The plastic drinking straws market is estimated to grow from US$ 11,364.70 Million in 2019 to reach a market value of USD 3068.26 million by 2027.
Plastic drinking straw segment is expected to have the negative market growth over the forecasted period due to the ban on the plastic straws. Corporations, municipalities and governments are imposing bans on the plastic straws.
For instance, in July 2018, McDonald's has planned to ban plastic straws at its United Kingdom and Ireland restaurants. Though plastic straws are cheaper in comparison to the paper straws, some market players have taken initiatives of manufacturing the paper straws to replace the plastic straws.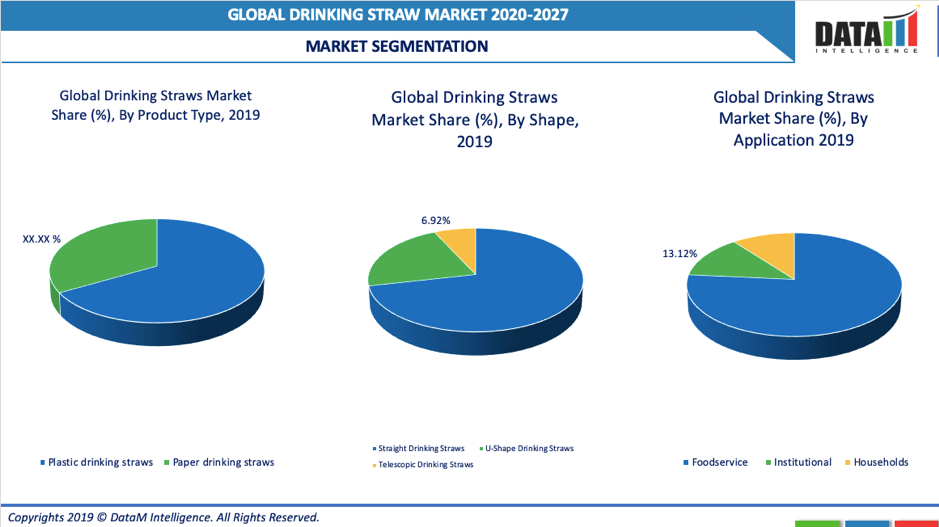 Drinking Straw Market Geographical Analysis
The South America drinking straw market is estimated to US$ 287.90 Million in 2019, growing with a CAGR 6.5% by between 2020-2027.
South America is also growing at faster pace for the drinking straws market owing to rising the consumption of beverages, soft drinks, fruit juices, and many more. Further from the South American Countries, Brazil has the highest contribution for the consumption of the sugary drinks and beverages with rising the population demand and growing the food processing companies in this region. For instance in 2018, Brazil have registered around US$ 179 billion sale through food and beverages industries and the region consist of 35,800 companies.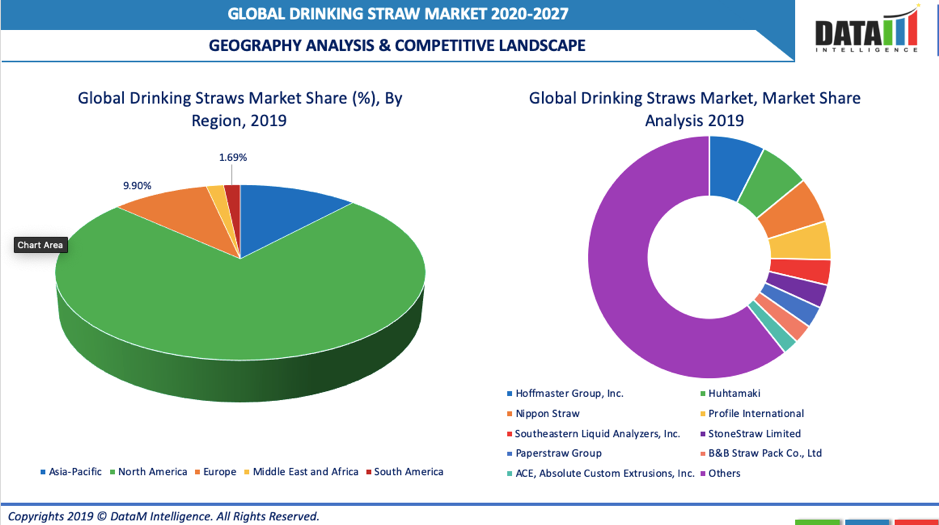 In Asia-Pacific, the use of drinking straws increased for the cartoon packaged beverages with rising the consumption of the sweetened sugary beverages due to growing population and urbanization in this region. According to the United Nations Population Fund (UNFPA), Asia-Pacific region has around 60% world's population with estimated to 4.3 billion people including most populous countries, China and India. This huge population has increased the consumption of beverages from the food and beverages processing industries.
For instance as per the Green Peace Organization in 2018, South Asia region accounts for around 50% of global sachet production and consumption increased to US$ 855 billion and is projected to reach US$ 1.3 trillion.
In addition to this several leading players have launched biodegradable compostable paper straws and have began the production of these straws in the Asia-Pacific region. For instance on 27th Sep 2019, Nestl the leading food & beverages manufacturer have introduced paper straws in Indonesia and Malaysia. This has replaced around total of 70 million plastic straws across the two countries in a year's time.
The drinking straws market is a highly fragmented market with top five companies occupying only 28.70% of the market share in 2019.
The market in Asia-Pacific and North America are highly fragmented with presence of thousands of companies in all leading countries while the market is moderately fragmented in Europe, Middle East & Africa and South America regions due to low demand in South America and Middle East & Africa while in Europe most of the demand is shifting to paper which left limited companies in the region.
Customization plays a major role in determining the market position of players in Europe and North America regions. Although, in Asia-Pacific most demand is generated for standard products.
Most of the players are focusing on expanding distribution network as well as expanding presence in the Asia-Pacific region due to increasing demand of beverage sales. Beverage consumption in restaurants and increasing traction of caf and coffee shops due to changing lifestyle are helping straws market to create demand. However in 2020, all the regions witnessed free fall in demand of straws market due to ban on single-use plastic straw and pandemic.
About Us
DataM Intelligence was incorporated in the early weeks of 2017 as a Market Research and Consulting firm with just two people on board. Within a span of less than a year we have secured more than 100 unique customers from established organizations all over the world.
See Campaign:
https://www.datamintelligence.com/research-report/drinking-straw-market
Contact Information:
Sai Kiran
Sales Manager at DataM Intelligence
Email: info@datamintelligence.com
Tel: +1 877 441 4866
Website: www.datamintelligence.com
Tags:
, Financial Content, Google News, Content Marketing, IPS, Reportedtimes, Extended Distribution, iCN Internal Distribution, English
Contact Information:
Sai Kiran
Sales Manager at DataM Intelligence
Email: info@datamintelligence.com
Tel: +1 877 441 4866
Website: www.datamintelligence.com