Enthusiastic volunteer Richard VanDeWalle Jr discusses the opportunities and rewards of helping American veterans.
Richard VanDeWalle Jr of Blue Grass, Iowa, has dedicated many hours to raising money for good causes, including volunteering to help American veterans. He urges others to donate their time and money to worthy causes that enrich the lives of those in need.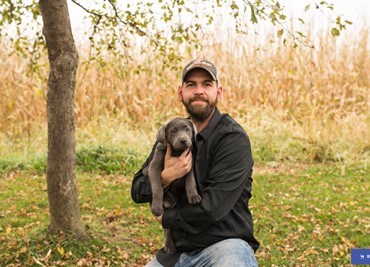 Richard VanDeWalle Jr Discusses Volunteer Opportunities that Help Veterans
According to Salute America's Heroes, combat veterans often need help making the transition from the military back to civilian living. Volunteers help raise funds and awareness of the plight of America's veterans. Richard VanDeWalle Jr suggests that those looking for a way to give back to the community consider volunteering for veterans in their community.
Running errands, mentoring, and talking to a retired veteran can alleviate strain and stress for patriotic heroes. Tutoring a veteran newly returned to civilian life can help them develop new skills needed to earn a living, says Richard VanDeWalle Jr.
Many veterans spend years or decades in specialized roles. These individuals often need help transferring their military discipline into hard and soft skills that make them more employable. Richard VanDeWalle Jr is no stranger to hard work. He has spent 30 years working in the lumber industry. Businesses and mentors willing to give disabled veterans an opportunity to thrive can help America's heroes thrive outside the military, says Richard VanDeWalle Jr.
Some volunteers provide food or housing for families of wounded vets recuperating far from home.
Richard VanDeWalle Jr Discusses Homes, Housing and Comfort for Those in Need
The Department of Veterans Affairs relies on volunteers to provide valuable services to veterans of the Iraqi and other wars and conflicts. Men and women such as Richard VanDeWalle Jr offer their skills and knowledge to assist veterans. For example, he has assisted local veterans by building storage shelving and food giveaways at a local Veterans Outreach Center that was opened in memory of his grandfather a veteran of WWII.  He also organizes community events to help veterans.
Richard VanDeWalle Jr's other volunteer efforts include making blankets for a local abuse shelter. He organized efforts to create dozens of blankets to help families in need. Additionally, he and his brother were honored by President Bill Clinton for raising money for earthquake survivors. He also received online praise for his work with "Make a Blanket for Kids Day," for which kids and parents teamed up to make more than 50 blankets.
"What a great day seeing the kids give to help other kids in need," says Richard VanDeWalle Jr. He wants to keep the tradition alive and gives a thumbs up to all the volunteers for helping our community.
Volunteers such as Richard VanDeWalle Jr keep the tradition of families helping families alive. He encourages other Americans to find a local group that could use an extra set of hands to complete good deeds
Tags:
,
Content Marketing
,
IPS
,
Reportedtimes
,
Financial Content
,
Extended Distribution
,
iCN Internal Distribution
,
English
The post How to Help Veterans with Volunteer Richard VanDeWalle Jr appeared first on Financial Market Brief.