In this age of digitization, the internet is becoming a place to advertise your products and services. Every business, service provider or manufacturing unit has a website to showcase their products/ services and expand their customer base. But before you begin, you need a web hosting service provider who maintains a powerful server to store your website data and also manages the technology to connect your website to the internet.
In 1998, one such service was started by iPage, and presently, it is the most trusted web hosting platform. It gives your website an advantageous position on search engines, provides accelerated website viewing, and a great viewing experience. With its helpful 24 by 7 customer support, 99.99% uptime, and 1-click word-press loading, iPage will be the best for any online domain owner.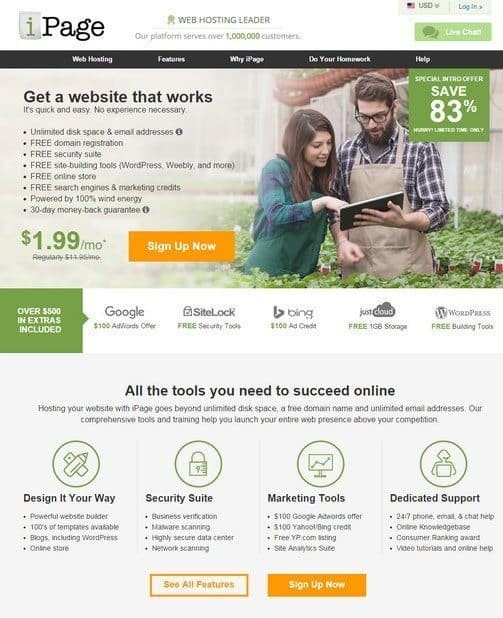 About iPage
This is a web hosting provider that provides you with unlimited storage, lightning-fast speed, very quick server response time, and also a free domain. To get started with iPage, you have to choose a plan as per your requirements and there is prompt and knowledgeable 24 x 7 customer support that will help you through phone, email, and live chat. This is the most important service offered by the owners to make your website run 24 by 7 and is never down. The service plans are designed for both beginners and experts. As a user, you will get many free tools to make your task easy like a drag and drop builder, a free security suite for your web page, and everything essential to building a popular website. It is even offering free tools on marketing and 83% of the WPBeginner plan.
Pros
Many Third-Party Applications
There is free domain registration for you in all hosting plans for the preliminary year and you can save an amount of $15 while you enjoy the elite services provided by iPage. The web hosting platform will provide you with an SSL certificate and a free email address with virus checking, autoresponders, spam filters, email forwarding, and accounts with the latest IMAP/POP3 protocols.
This premium facility allows you to set up with Outlook with your linked email and receive all the important emails from prospective buyers/customers/other visitors. The hosting provider gives you hundreds of free templates to build your website. It also provides you with a bunch of six web pages and unlimited disk space. Even the basic plan offered by this web host service provider will entitle you to scalable bandwidth and unlimited MySQL databases.
Building a website with iPage is very easy with the special drag-and-drop website builder tool. It also has many well-known open-source ready to install and use applications like ZenPhoto, Joomla, b2evolution, and PixelPost, WordPress plus SMF forums, and Gbook.
iPage is also a full-fledged e-commerce store and includes several interfaces like OSCommerce, TomatoCart, ZenCart, OpenCart, PrestaShop, and AgoraCart. It also helps you with the convenient, secure, and popular PayPal integration for all transactions.
==> Special Discount: Order Today With Best Price And Special Offers <==
Affordable and Cheap Hosting
iPage is the cheapest web hosting platform in the entire market for the last few years. The iPage is available at a cost of $1.99 per month. If you buy a package of three years then you will get this web hosting platform for $1.99 per month. The regular price of the platform is $7.99 per month. If you are purchasing for one year, the platform is available for $2.99 per month. If you are buying for two years, the web host will cost you $2.49 per month.
Excellent Loading Time
The loading time of the iPage is 746ms for over 2 years. Studies have proved that the lower the speed of loading, the lower is the revenue and conversion rates. Also, the higher the speed of loading, the higher is the revenue and conversion rates.
Money-Back Guarantee
iPage provides you with a 30-day money-back guarantee. If you are not happy with the platform, you will get your entire money back without any questions asked. The platform provides you with a free domain name for the preliminary year. This costs you $15. This will be debited from your account but you can still use the domain name for another hosting platform.
Customer Support
This web hosting platform provides you with customer support 24 hours a day and seven days a week, through a ticketing system and online help desk. The customer support team of iPage provides you with tutorials to fix any query or issue you may have regarding the web hosting platform. You can also phone them or chat with them to solve your query. They will try and fix your problems by doing small research. They also might ask you some questions about the issue you are facing.
Powerful Uptime
Uptime in web hosting is expressed in percentage and it is the time for which your website is up and running. Any average web host provider has an uptime of 99.5% and this indicates that the servers are powerful performers. In comparison, iPage has had a powerful uptime performance over the last 2 years. The web host provider has an uptime average of 99.96% which is stupendous and proves that it is the champion amongst the top performers.
iPage has given this average time in the last one year:
January 2020:99.88%
December 2019:99.87%
November 2019:100%
October 2019:99.97%
September 2019:100%
August 2019:99.96%
July 2019:99.90%
June 2019:99.90%
May 2019:99.95%
April 2019: 99.99%
March 2019:99.95%
February 2019:99.92%
The web host provider has a specialized team of experts who monitor the uptime 24 by 7. If a website goes down, the customer support team will be informed immediately and then the maintenance team of software wizards will address the issue. This whole process barely takes a few minutes, and the traffic of your web-page will never come to know that it is down.
MUST SEE: "Shocking New iPage Report – This May Change Your Mind"
Cons
No cPanel
cPanel is like a dashboard or an interface that allows you to use the cPanel in another place after using it in one place. Some users prefer it as it is a discovery, but iPage does not use cPanel. This is because cPanel compromises with any website's basic security and makes the website vulnerable to hacking attacks. The absence of cPanel will not be an issue for the novices and the experts who are doing web hosting for a long period prefer not to use cPanel.
No Free Website Migrations
iPage does give any free website migrations and charges you a one-time fee of $150 if you want to migrate your website. As the domain comes free, so this fee is justifiable.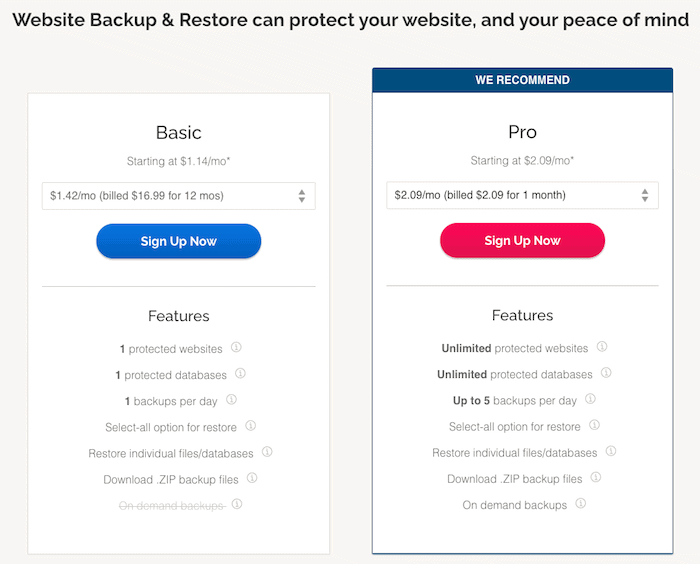 Purchase and Price
A basic 1-year plan will cost $2.99 per month and the cost of registration is $9.99
You can also opt for a 2 years plan at the rate of 2.49 per month; registration charges are $8.99.
For 3 years subscription, you get the greatest discount, and the company bills you at $1.99 per month, the registration charge is $7.99.
Additional products also available at a discounted price to help you build and run your website.
SiteLock Essentials is available at $1.99 per month.
Website Backup Basic is available at $1.25 per month.
Domain Privacy is yours at $0.83 per month. If you buy this add-on service, you will get Encrypt SSL for securing your website free of cost.
You can also buy additional protection for your web-page, Protect your Identity Domain Privacy, which costs $9.99 per month.
You can also add Google G Suite to your account for an amount of $6 per month and WordPress Optimization Bundle at $3.00 per month.
If you buy all the add-ons with a three-year subscription, it will cost $126.74, 2 years, for a 2-years subscription; the amount you pay is $162.61, and for a 3-years subscription, it is $ 183.49.
Refund Guarantee
The designers of this unique web hosting service, iPage offer an amazing 30-days money-back guarantee. If, after using the services of iPage, you are not satisfied, you can contact the company over the phone or email for a refund. If you want to quit your membership with this premium web host within 30 days of purchase, you will get your full money back. Only $15 are deducted for your domain name, as you own the name and the company can't re-allocate it to a new user. And you can host this website of yours with any other service provider.
ALSO READ: iPage Customer Reviews and Testimonials: Does It Work For Everyone?
Conclusion
iPage is the most cost-effective way of web-page hosting. Website building is very easy with the tools and services provided free of cost by iPage. Further, you can also get $500 worth of freebies like free YP.com listing, Google AdWords, and the very popular Bing credits, and many more. The company has dedicated hosting plans as per your needs, like shared hosting, VPS hosting, individual dedicated hosting, and WordPress hosting are also available. Even starters in this field who have a small budget and very little knowledge of website building can build a website within a few minutes with the help of this user-friendly platform.
Users of this web hosting platform never change to other similar service providers because of the immense support they receive from iPage. So, take the right decision to join the iPage to host your website and climb the ladder of success very fast.
Tags:
,
Content Marketing
,
IPS
,
Wire
,
English