EIG or Endurance International Group is the umbrella company under which several hosting companies thrive. One of the most popular brands functioning with this company is Bluehost.
Bluehost was launched in 2003 by Matt Heaton and Danny Ashworth and has flourished to become a common name for WordPress hosting. They are known for their reasonable value and excellent performance. They offer hosting plans such as Shared hosting, Dedicated hosting, VPS hosting, and WordPress Managed web hosting.
Bluehost provides users with wide-ranging tools for them to design, develop, and launch a website conveniently. Newbies and experts can benefit from this hosting service provider for their ease of use. Their office is located in Orem, Utah, from where they power over 2 million websites. In this review, you will get a peek into what Bluehost has to offer and whether it suits your needs.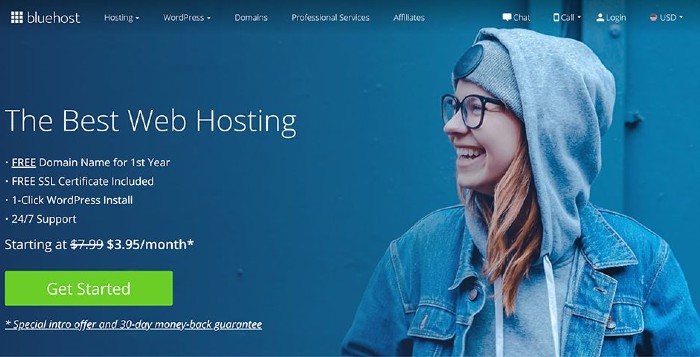 What Features Does Bluehost Offer?
Domain Name
Domain name is the name you give your website or the website address. Bluehost offers to host the domain name for free for the first year. Post that, you will be charged an annual fee of $17.99.
In-Built Caching
Bluehost offers its users an in-built caching feature. So, you don't need to search and install a 3rd party plugin for the same. You can also easily configure the level of caching depending on your need and your website's size.
Additional Tools
Bluehost provides numerous tools and applications with a one-click installation. You can add WordPress, Joomla, Drupal, Magneto, and other such apps using their automatic installer. Make sure you check out all the pre-existing tools and delete the ones you don't need to clear out space.
Migration
If you are looking to move from an existing hosting service to Bluehost, you can do so with ease. Bluehost allows you to migrate 1 WordPress website for free within the first 30 days from registration. However, you will have to pay if you want to transfer more than 1 site.
Shared Hosting
Bluehost provides shared hosting plans for smaller businesses, bloggers, professionals, and other individuals. With this plan, you will get your own hosting space on shared servers with all the other features that Bluehost provides. You can check out the shared hosting plans later in this review.
Dedicated Hosting
If you have a large business with huge foot-falls on your site, then you may want to invest in a dedicated hosting plan. Bluehost has some superb features such as robust SSD storage, instant provisioning, and excellent speed.
VPS Hosting
VPS stands for Virtual Private Server and is for websites that need special configuration but on shared hosting. Bluehost offers its users a controlled server environment and flexibility to suit their websites.
WordPress Hosting
Bluehost offers WordPress hosting for those looking to develop sites that are optimized for WordPress's security and performance measures. You get hassle-free updates, excellent speed and uptime, and scalability with this hosting plan. Besides, you get to explore several WordPress themes to build a unique website.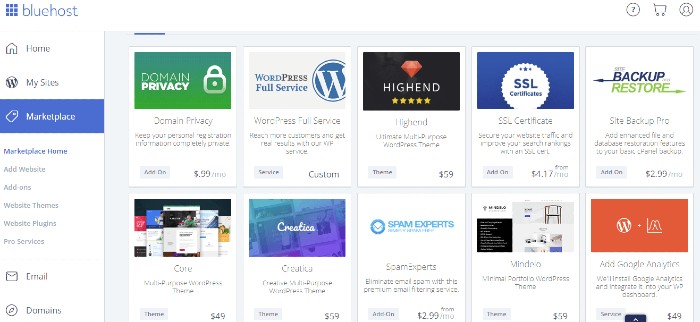 Pros Of Using Bluehost
Bluehost has shared plans at discounted rates for the first term. Even their renewal charges are relatively less compared to several other hosting services of the same caliber, offering the same services. This web host provider has plans for small and big businesses and offers fantastic features at affordable rates.
Bluehost has a 24×7 customer support team. You can get in touch with them via live chat, telephone calls, and emails. They have video tutorials and a vast library of articles as part of their widespread knowledgebase. The technical support team is friendly and can resolve any issues without too much delay. Overall, the customer support team is proficient in their job.
Uptime is the time during which your site is operational on the internet. Bluehost has an uptime of 99.98%, which means your website will be active, live, and accessible almost throughout the year. The maximum downtime your site might face in the entire year is about two hours. The industry standards for the best average uptime is 99.9%. Bluehost, in that sense, provides remarkable uptime to its users.
Bluehost has a friendly interface with a cPanel that can be easily managed by beginners as well as experts. You get one-click installation options as well as drag and drop options to design your website. Their dashboard now has a changed look to incorporate more features from WordPress.
Bluehost gives its user unlimited disk space and unmetered bandwidth. Even their limitations under their fair usage policy have a high threshold. So, you get enough and more unrestricted resources while using Bluehost.
Bluehost provides a free SSL certificate for your website's security. Moreover, if you are a beginner, you don't need to know the technicalities of adding the SSL certification to your site. Bluehost will do this automatically for you and help you keep your website safe from threats.
Bluehost gives you $200 in marketing credits. You can spend $100 for Microsoft Advertising and $100 on Google Ads and promote your website.
==> Special Discount: Order Today With Best Price And Special Offers <==
Cons Of Using Bluehost
Bluehost suggests many addons as upsells when you sign-up, which can get a bit bothersome for users. Some of these might be really useful, but most times, they are not required. However, you can uncheck the addons and only pay for what you need.
Bluehost does offer free migration for one website, but that does not include email ids. Migration can cost anywhere between $3.95 to $6.95 per month, depending on how many websites you want to transfer and how you want to grow them with Bluehost. Even free migration is subject to approval from the technical team.
Bluehost provides daily, weekly, and monthly backups, which are complimentary, but they are not guaranteed. Besides, every backup is deleted after 30 days. You cannot depend on them for backing up your data. In fact, Bluehost suggests all its users take a regular backup from their cPanel manually.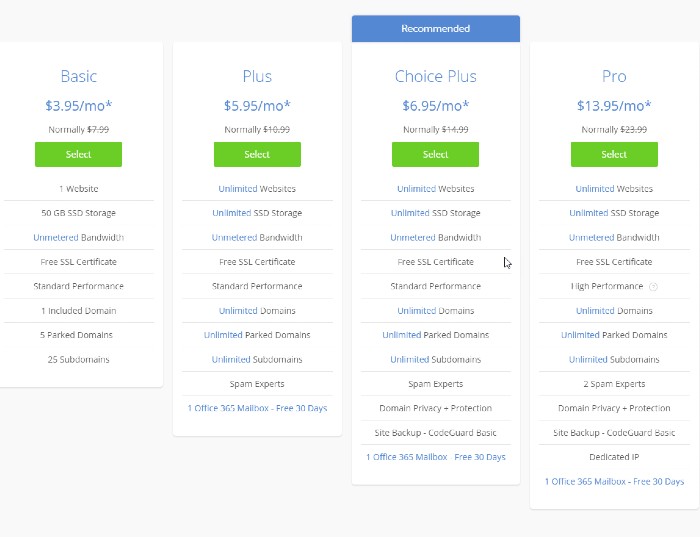 Bluehost Shared Hosting Pricing And Plans
Bluehost has 4 shared hosting plans that you can select depending on your website's scale and requirements.
Basic Plan
If you have a single website and are just starting off, then you can opt for the basic plan. The promotional discounted fee for this offer is $3.95 per month. The renewal price is $7.99 per month for a 3-year term. You can host one website with 50GB space and unmetered bandwidth. You will get a free domain name for one year and a free SSL certificate.
Plus Plan
If you want a shared host for multiple websites, then you can go for the plus plan. This plan is at a discounted price of $5.95 per month, which will become $14.99 for a 3-year term upon renewal. You get to host unlimited websites with unlimited disk space. You get unmetered bandwidth, a free SSL certificate, spam expert, and unlimited domains and subdomains. You also get 1 Microsoft 365 Mailbox free for 30 days.
Choice Plus Plan
The choice plus plan is priced at a discounted rate of $6.95 per month for the first term. Once you renew your account, you will have to pay $14.99 per month for 3 years for this plan. You get everything that is included in the plus plan. Additionally, you get domain privacy and protection and free Site backup for a year. So, this plan is excellent if you want a private domain and backup for your multiple websites.
Pro Plan
The Pro plan is more for businesses that are using shared hosting and require additional support. You can buy this plan for the promotional rate of $13.95 per month. The renewal rate for this plan is $23.99 for a 3-year term. You will get all that is included in the choice plus plan and more. You get high performing sites with 2 spam experts. You get unlimited free site backups and a dedicated IP for your sites.
Money-back Guarantee And Refund Policy
Bluehost offers a 30-days money-back guarantee. Bluehost will require you to pay the entire term's money in advance if you want to use their promotional benefits. However, your money is secured by their refund policy. If you are not satisfied with their service, you can cancel it within 30 days of purchase and get your refund.
Refunds are, however, not applicable to domain names and some addons. Domain names once registered cannot be used by any other company but yours. You will have to pay for the domain name; you can transfer the domain name to another hosting service. Apart from these additional amounts, you will get your refund.
Final Verdict
Bluehost is undoubtedly one of the most reliable and inexpensive hosting services you can opt for. WordPress also recommends this web host provider. Using Bluehost is simple and does not require any prior coding knowledge. It is value for money, especially for individuals and small businesses.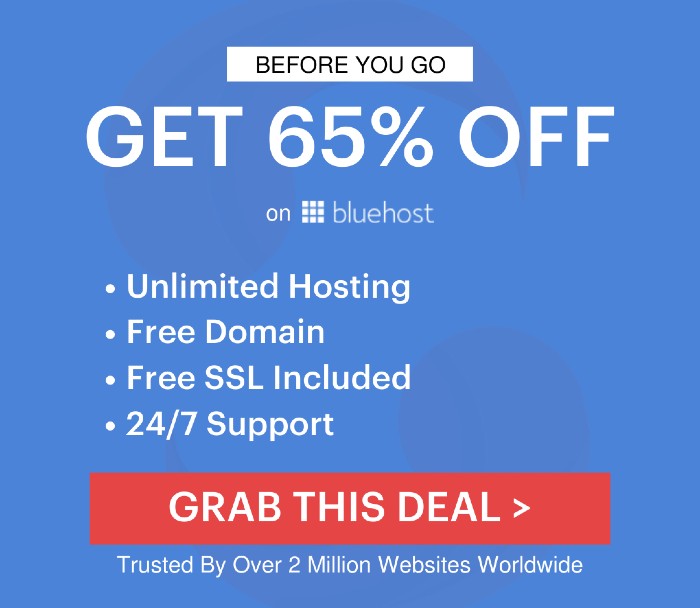 Tags:
,
Content Marketing
,
IPS
,
Wire
,
English