Website hosting companies have become a little too many to keep track of. But a few stand out in performance, size, and popularity. InMotion Hosting is one such company that has created a name for itself since 2001 in getting things done in the hosting space. It has, over this time, made a customer base of more than 300,000. It proudly owns a subsidiary arm, Web Hosting Hub, an entity tailor-made to serve bloggers and first-time website owners. The company has two server locations at Virginia Beach and Los Angeles in the US, giving it considerable clout.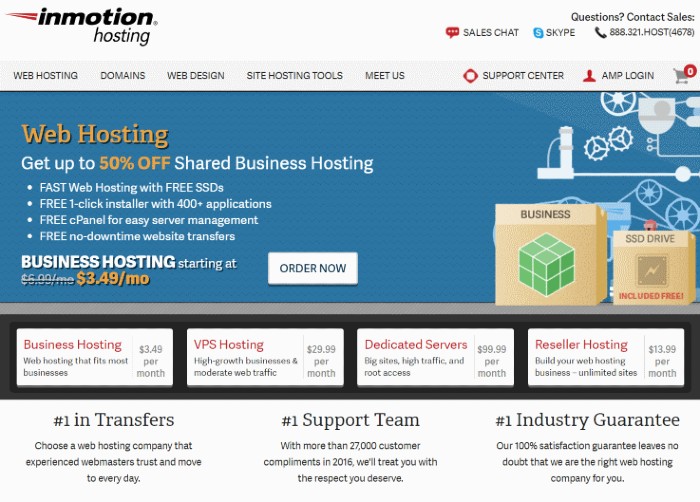 But does the company have words, or do they back it up with action? Get to discover what it has in store for you and whether it can serve your needs. Independent vetting has gotten used to analyze the company using real accounts to bring you this analysis.
Speed and uptime are two of the most basic requirements in a hosting service. These go in line with price, products offered, customer support, and diversity. You get how it performs in all these aspects here.
Features
Constant uptime is a dire requirement for any website, and InMotion offers this. It averaged 99.95% uptime in the past 24 months of 2020, going back to 2019 and 2018, making it an always good performer.
Customer support has an integral part of a hosting provider as every minute counts. This particular company has a highly responsive system where you can get a support agent within minutes of accessing their chat or ticket services. Such an approach is essential for you to always work out online chinks.
A good company offers you a guarantee to secure your purchase, and InMotion Hosting provides you this option of getting out of the deal without hurting you. It doesn't offer you the standard 30-day money-back return but gives you a whole three months to try out their products. Shared hosting has a 30-day refund policy, though.
The company offers an impressive portfolio of over 300 apps to integrate into your website to make it a world-class masterpiece. You have a range of open source applications to necessary popular software like WordPress, Drupal, and even shopping apps like Magento and Prestashop.
This hosting service understands how cyber threats continue to rise in severity. It has created a Smartwall Threat Defence System to guard your site against current terrors like Dos, brute force, and DDoS. The company manages this by collaborating with Corero Network Security, a firm specializing in DDoS mitigation and elimination. The Sucuri Security plugin serves WordPress users specifically. You can rest assured your site has top of the game protection features.
==> Special Discount: Order Today With Best Price And Special Offers <==
Understanding the demands of current website owners, InMotion Hosting offers eCommerce services paralleled only by the best in the industry. They have partnered with SiteGround and Prestashop, enabling you to provide a fluid experience to shoppers on your site. It also offers seamless and secure payment plans to go along with these shopping apps.
You also have constant needs to update your site information. This hosting service understands that need and secures an integration with Google apps, which you can use freely. It enables you to do this integration following a simple three-step process.
You also get a free ride from your current host, as this particular provider assures you a seamless and hassle-free transfer. You can relax as you get upgraded into upward motion with one of the best in the industry.

Packages & Pricing
InMotion Hosting has several packages available for its esteemed clients. It has three models in its shared hosting plan, with the Launch plan having a reputation as the package for all skill levels. It usually costs $7.99 a month, but you can get it at $3.99 a month if you purchase the 24-month package or pay $4.99 per month when you buy a year's supply. It gives you access to a free domain and SSL, two websites, unlimited disk space, bandwidth, and email. It allows you optional marketing tools and a security suite.
The Power plan comes in as the first choice for small businesses. You can access it at $5.99 per month instead of its usual $9.99 per month. It offers you a free domain and SSL, six websites, unlimited bandwidth, email, and disk space. You get optional two-times performance, marketing tools, and a security suite.
The Pro plan takes up developers and growing companies and comes to you at just $13.99 per month instead of its regular $15.99. It offers everything Power plan offers but adds on an unlimited number of website support and four times performance boost.
WordPress hosting is a specialized package that allows you to host your site tailored explicitly for WordPress sites. It carries more or less the same features as shared hosting with cPanel as the dashboard option of choice and one-click access to more than 300 popular apps. You have five different plans, with the lowest going for $5.89 and the highest priced at $29.99 per month.
You can get your virtual private server from $29.99 going all the way up to $59.99, with an in-between at $39.99. The lowest plan offers you 4 GB RAM, 75 GB of disk space, a 3 TB bandwidth, and 3 IP addresses. The highest program provides you 8 GB RAM, 260 GB disk space, 6 TB bandwidth, and 5 IP addresses.
You can get a dedicated server all to yourself if you have high business demands. It costs a pretty penny, with the lowest package going for $189.99, the mid-level plan going for $219.99, and the highest package at $299.99.
You can access the reseller option if you want to give website hosting services to others. You have three pricing options, with the first one going for $27.99, the second one going for $39.99, and the third one priced at $54.99 per month. The most basic plan has a bandwidth of 800 GB, while the advanced program has a 1,600 GB bandwidth.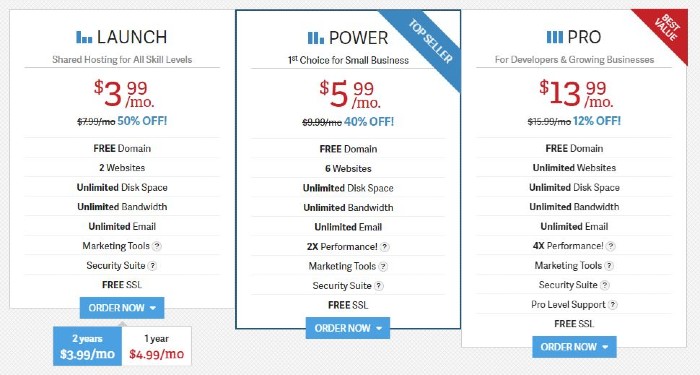 Refund Options
You get access to a 90-day refund option when you purchase either the VPS, business, or reseller plans. This option goes against the industry-standard 30-day guarantee. The one-month policy covers shared hosting plans that the company offers.
FAQs
How much support does the company offer eCommerce websites?
eCommerce websites have unparalleled support from services linked to online shopping like SiteGround. It also integrates secure payment protocols that ensure your site has full protection when mediating transactions.
Does InMotion have Google Apps integrated?
You can access Google Apps through a three-step integration wizard the company provides.
How far does the discounted price reach?
You can access the discounted price when you purchase a 24-month subscription.
Pros
It has an average uptime of 99.95%.
Top of the cream customer support.
There's a three-month money-back guarantee.
Multiple apps and integrations support your business.
It uses high-end security protocols to secure your site.
It offers you free website migration.
Cons
The 90-day money-back guarantee only covers the VPN, business, and reseller packages. Shared hosting has a 30-day refund period.
You do not get free automated backup.
The advertised discounted rates can only get accessed when you purchase 24-month plans and above.
Setup verification takes a little too long, especially for clients outside the US.
(AMAZING DISCOUNT) Get InMotion Hosting For The Lowest Price Here

Customer Testimonials
"I have very specific VPS needs and wanted a service provider that could enable me to perform all my businesses without the concern of having downtime or slowed speeds. InMotion Hosting gave me this service. I have worked with it for seven years now. I can attest to their responsiveness and uptime capabilities as above industry standards." Rob Bunny.
"I took my time vetting hosting companies as I needed a robust provider that could keep my eCommerce site always live. I had tried several companies to a disappointing end. I had lost so much business with unresponsive pages and malfunctioning systems. I saw InMotion Hosting has a dedicated commerce niche with integrated payment systems.
I decided to try it out as their 90-day money-back guarantee gave me confidence. I could salvage some investment in case things went south. So far, so good. I have gained traction in my online store, and it keeps getting better." Brenda Egerton.
"I love the way this company has super-fast customer support response times. I can never stay stuck long when I have an issue. They quickly resolve my trouble or direct me to the relevant personnel who help me out." Mitchel Michaels, UK.
Conclusion
Website hosting has become a competitive field that requires constant adjustment to the challenges faced by clients. It takes you to recognize the needs you have to choose a service provider that caters to these desires and more so you can scale up. InMotion Hosting supplies a vast array of services to cater to different business categories. If you're looking for a service provider that allows you to grow and build without breaking the bank, then this one can offer you that helping hand. Try it today.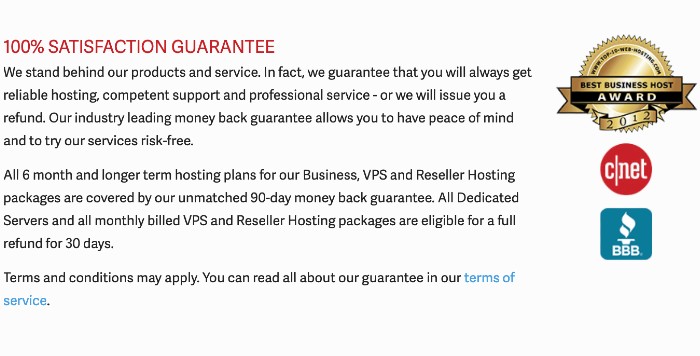 Tags:
,
IPS
,
Content Marketing
,
Wire
,
English