Zion Market Research has published a new report titled "Organic Pigments Market by Type (Azo Pigments, Phthalocyanine Pigments, High-Performance Pigments (HPPs), and Others) and by Application (Printing Inks, Paints & Coatings, Plastics, and Others): Global Industry Perspective, Comprehensive Analysis, and Forecast, 2017—2024". According to the report, globalorganic pigments marketwas valued at approximately USD 3.51 billion in 2017 and is expected to generate around USD 4.89 billion by 2024, growing at a CAGR of around 4.8% between 2018 and 2024.
Pigments are mostly used for coloring plastic, paint, ink, and fiber, among other materials, which are mainly organic and inorganic solids. Organic pigments are prepared by synthetic and natural sources. Synthetic organic pigments are carbon-based and mostly obtained from petroleum compounds, whereas natural organic pigments are obtained from animals and plants. Organic pigments are comparatively cheaper, non-toxic, and have good color strength, which makes them more preferable in various end-user industries.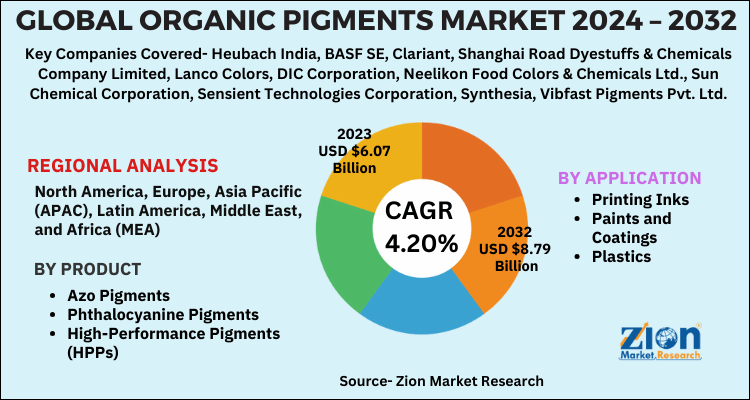 The rising demand for organic pigments from various industries, such as plastic, textile, etc., is anticipated to drive the global organic pigments market growth over the forecast timeline. The presence of organic pigments in unique shades makes them more attractive and visually appealing for application in visual arts. These are some factors that are likely to fuel the operating in the organic pigments market globally over the estimated timeframe.
By type, the organic pigments market includes high-performance pigments (HPP), phthalocyanine pigments, azo pigments, and others. Azo pigments held a major revenue share in the year 2017, owing to its extensive use in the printing inks for packaging of consumer goods and food and beverage. Moreover, easy access to different colors, such as orange, red and yellow, of Azo pigments at economical prices is expected to further drive the segment growth over the estimated time period. By application, the organic pigments market includes paints and coatings, plastics, printing inks, and others. Printing inks held a major revenue share in the year 2017, owing to the stringent government regulations against the use of metallic content pigments. Furthermore, organic pigments are extensively used in printing inks in printing media and packaging industries.
By region, the global organic pigments market includes North America, Europe, Asia Pacific, Latin America, and the Middle East and Africa. The Asia Pacific was the largest regional market for organic pigments in the year 2017, owing to the rising product demand by the region's construction, packaging, and automotive industries. Moreover, rapid population growth in the Asia Pacific region provides a huge customer base for food, beverages, and FMCG products. This, in turn, will have a positive impact on the packaging industry, which is expected to drive the region's organic pigments market over the forecast time period.
Some major players of the global organic pigments market are Heubach India, BASF SE, Clariant, Shanghai Road Dyestuffs & Chemicals Company Limited, Lansco Colors, DIC Corporation, Neelikon Food Colors & Chemicals Ltd., Sun Chemical Corporation, Sensient Technologies Corporation, Synthesia, Vibfast Pigments Pvt. Ltd., and Neochem Industries.
This report segments the global organic pigments market into:
Global Organic Pigments Market: Product Type Analysis
Azo Pigments
Phthalocyanine Pigments
High-Performance Pigments (HPPs)
Others
Global Organic Pigments Market: Application Analysis
Printing Inks
Paints and Coatings
Plastics
Others
Global Organic Pigments Market: Regional Analysis
North America
Europe
Asia Pacific
Latin America
The Middle East and Africa
You can Buy This Report from Here @https://www.zionmarketresearch.com/buynow/su/organic-pigments-market/news
See Campaign:
https://www.zionmarketresearch.com
Contact Information:
Zion Market Research
244 Fifth Avenue, Suite N202
New York, 10001, United States
Tel: +49-322 210 92714
USA/Canada Toll-Free No.1-855-465-4651
Email: sales@zionmarketresearch.com
Website: https://www.zionmarketresearch.com
Tags:
, Reportedtimes, IPS, iCN Internal Distribution, Research Newswire, English
Contact Information:
Zion Market Research
244 Fifth Avenue, Suite N202
New York, 10001, United States
Tel: +49-322 210 92714
USA/Canada Toll-Free No.1-855-465-4651
Email: sales@zionmarketresearch.com
Website: https://www.zionmarketresearch.com