Zion Market Research has published a new report titled "Healthcare Cloud Computing Market by Application (Clinical Information System and Nonclinical Information System), by Component (Software and Services), by Service Model (IaaS, PaaS, and SaaS), by Deployment Model (Public Cloud, Hybrid Cloud, and Private Cloud), and End-User (Healthcare Providers and Healthcare Payers): Global Industry Perspective, Comprehensive Analysis, and Forecast, 2019—2025". According to the report, the globalhealthcare cloud computing marketwas valued at approximately USD 18.85 billion in 2018 and is expected to generate around USD 61.84 billion by 2025, at a CAGR of around 18.7% between 2019 and 2025.
Cloud computing is a technique for supplying information technology (IT) facilities that help in regaining assets from the internet by using web-based applications and tools. It offers an easy way to get access to servers, databases, storage, and a wide-ranging array of application facilities on the web. Cloud computing offers a great deal of flexibility to healthcare organizations so that they can control data scalability as per their convenience.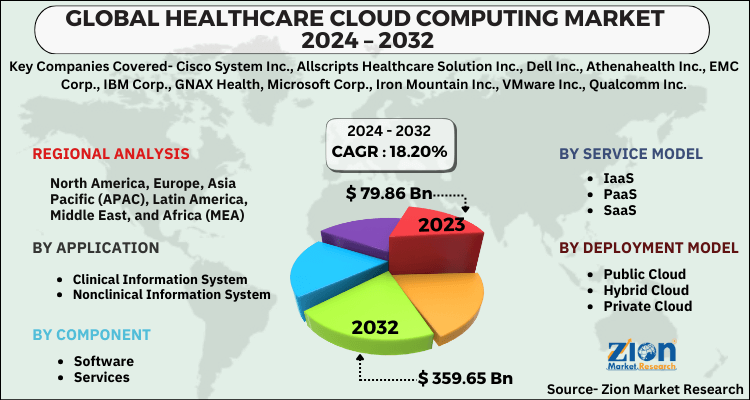 The primary factors that are likely to drive the global healthcare cloud computing market are growing adoption of IoT, wearable devices, and big data analytics in the healthcare sector, expansion of high speed internet, introduction of novel payment models, increasing demand for rigorous regulatory compliance, and rising investment by healthcare providers in the future. Cloud computing offers multiple benefits, such as flexibility, better storage, and data scalability, the implementation of favorable governing regulations, increasing public awareness, and efforts taken by government organizations are likely to create new growth avenues for the market players of the healthcare cloud computing market in the upcoming years. However, data privacy issues, growing cases of cloud data breaches, and complications related to data portability might limit the healthcare cloud computing market on a global scale over the estimated timeframe.
The global healthcare cloud computing market is segmented based on application, component, service model, deployment model, and end-user. By application, the healthcare cloud computing market includes clinical information system and nonclinical information system. The clinical information system is sub-segmented into image sharing solutions, VNA, and PACS, EMR, PHM, LIMS, Telehealth, RIS, PIS, and others. The nonclinical information system is further sub-segmented into billing and accounts management, RCM, financial management, supply chain management, HIE, fraud management, and others. The component segment includes software and services. The service model segment includes IaaS, PaaS, and SaaS. The deployment model segment includes public cloud, hybrid cloud, and private cloud. The end-user segment includes healthcare providers and healthcare payers.
By region, North America is likely to lead the healthcare cloud computing market over the time period. This regional dominance can be attributed to the continued technological developments across the region, the rising number of companies incorporating cloud computing technology in the healthcare domain, favorable government reforms, and the presence of major market players. Europe is predicted to be the second largest regional market, owing to growing public awareness and increasing adoption of IoT. The Asia Pacific healthcare cloud computing market is projected to register the highest rate of growth in the upcoming years, due to the constantly improving healthcare structure, and increasing use of wearable devices.
Some key players of the global healthcare cloud computing market include Cisco System Inc., Allscripts Healthcare Solution Inc., Dell Inc., Athenahealth Inc., EMC Corp., IBM Corp., GNAX Health, Microsoft Corp., Iron Mountain Inc., VMware Inc., Qualcomm Inc., and Oracle Corp., among others.
This report segments the global healthcare cloud computing market into:
Global Healthcare Cloud Computing Market: By Application
Clinical Information System

Image Sharing Solutions, VNA, and PACS
EMR
PHM
LIMS
Telehealth
RIS
PIS
Others

Nonclinical Information System

Billing and Accounts Management
RCM
Financial Management
Supply Chain Management
HIE
Fraud Management
Others
Global Healthcare Cloud Computing market: By Component
Global Healthcare Cloud Computing market: By Service Model
Global Healthcare Cloud Computing Market: By Deployment Model
Public Cloud
Hybrid Cloud
Private Cloud
Global Healthcare Cloud Computing Market: By End-User
Healthcare Providers
Healthcare Payers
Global Healthcare Cloud Computing Market: By Region
North America
Europe
Asia Pacific
Latin America
The Middle East and Africa
You can Buy This Report from Here @https://www.zionmarketresearch.com/buynow/su/healthcare-cloud-computing-market/news
See Campaign:
https://www.zionmarketresearch.com
Contact Information:
Zion Market Research
244 Fifth Avenue, Suite N202
New York, 10001, United States
Tel: +49-322 210 92714
USA/Canada Toll-Free No.1-855-465-4651
Email: sales@zionmarketresearch.com
Website: https://www.zionmarketresearch.com
Tags:
, IPS, Reportedtimes, iCN Internal Distribution, Research Newswire, English
Contact Information:
Zion Market Research
244 Fifth Avenue, Suite N202
New York, 10001, United States
Tel: +49-322 210 92714
USA/Canada Toll-Free No.1-855-465-4651
Email: sales@zionmarketresearch.com
Website: https://www.zionmarketresearch.com