Zion Market Research has published a new report titled "Garbage Bag Market by Material (Low-Density Polyethylene, Linear Low-Density Polyethylene, High-Density Polyethylene, Polypropylene, and Others), by Size (Small Size (Up to 5 Liters), Medium Size (Between 5 and 20 Liters), and Large Size (More Than 20 Liters)), and by End-User (Retail and Consumer, Institutional, and Industrial): Global Industry Perspective, Comprehensive Analysis, and Forecast, 2017—2024". According to the report, the globalgarbage bag marketwas valued at approximately USD 1.41 billion in 2017 and is expected to generate around USD 2.29 billion by 2024, at a CAGR of around 6.7% between 2018 and 2024.
Garbage bags are used to line the insides of dustbins or huge waste containers. These bags come in various colors, such as black, green, pink, white, or transparent, etc., which are available in a variety of sizes, depending on their end-use. They have a wide range of applications in people's day-to-day lives, such as colleges, households, offices, restaurants, industries, shops, hospitals, etc. The rising health and environmental awareness among the consumers and supportive environmental policies implemented by governments of various regions are likely to positively influence the garbage bag market in the future. Moreover, increasing disposable income of people is boosting the demand for cost-effective and convenient trash bags, which is likely to further fuel the growth of the garbage bag market over the estimated timeline. However, stringent environmental policies and taxation over the use of plastic bags to diminish the harmful environmental effects might hamper the garbage bag market in the upcoming years.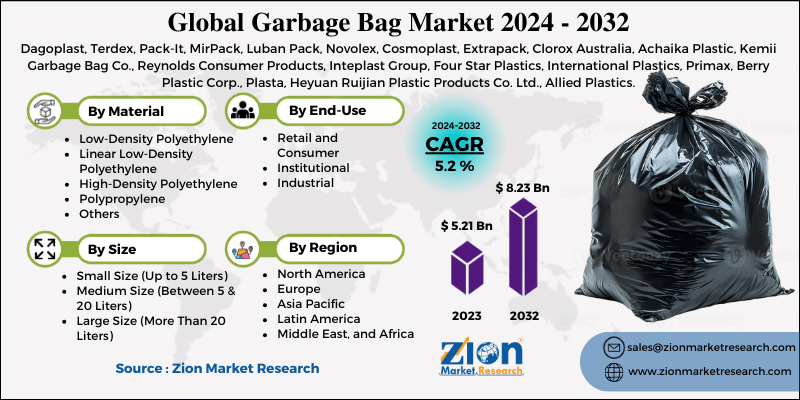 By material, the garbage bag market is segmented into liner low-density polyethylene, low-density polyethylene, high-density polyethylene, polypropylene, and others. The high-density polyethylene (HDPE) segment is anticipated to register the highest CAGR over the forecast timeframe, due to its high tensile strength. Furthermore, HDPE bags can also be made from biodegradable materials, which makes them easy to recycle. By size, the market includes small size (up to 5 liters), medium size (between 5 and 20 liters), and large size (more than 20 liters). The commonly used garbage bags are the medium-sized bags, as they are extensively used for domestic purposes and by small-scale industries. The medium sized bags held a major market share in 2017 and are anticipated to dominate the market in the upcoming years. By end-user, the garbage bag market is classified into retail and consumer, institutional, and industrial.
By region, this global market includes North America, Europe, Asia Pacific, Latin America, and the Middle East and Africa. The Asia Pacific is projected to be the fastest growing garbage bag market in the years ahead. In 2017, China held the largest garbage bag market share in the Asia Pacific region followed by India. The North American and European regions are anticipated to show a substantial growth rate over the forecast time period. A better standard of living witnessed among the middle-income group is another key factor likely to propel the European garbage bag market in the future.
Some major players of the garbage bag market are Dagoplast, Terdex, Pack-It, MirPack, Luban Pack, Novolex, Cosmoplast, Extrapack, Clorox Australia, Achaika Plastic, Kemii Garbage Bag Co., Reynolds Consumer Products, Inteplast Group, Four Star Plastics, International Plastics, Primax, Berry Plastic Corp., Plasta, Heyuan Ruijian Plastic Products Co., Ltd., and Allied Plastics, among others.
This report segments the global garbage bag market into:
Global Garbage Bag Market: Material Analysis
Low-Density Polyethylene
Linear Low-Density Polyethylene
High-Density Polyethylene
Polypropylene
Others
Global Garbage Bag Market: Size Analysis
Small Size (Up to 5 Liters)
Medium Size (Between 5 and 20 Liters)
Large Size (More Than 20 Liters)
Global Garbage Bag Market: End-User Analysis
Retail and Consumer
Institutional
Industrial
Global Garbage Bag Market: Regional Analysis
North America
Europe
Asia Pacific
Latin America
The Middle East and Africa
You can Buy This Report from Here @https://www.zionmarketresearch.com/buynow/su/garbage-bag-market/news
See Campaign:
https://www.zionmarketresearch.com
Contact Information:
Zion Market Research
244 Fifth Avenue, Suite N202
New York, 10001, United States
Tel: +49-322 210 92714
USA/Canada Toll-Free No.1-855-465-4651
Email: sales@zionmarketresearch.com
Website: https://www.zionmarketresearch.com
Tags:
, IPS, Reportedtimes, iCN Internal Distribution, Research Newswire, English
Contact Information:
Zion Market Research
244 Fifth Avenue, Suite N202
New York, 10001, United States
Tel: +49-322 210 92714
USA/Canada Toll-Free No.1-855-465-4651
Email: sales@zionmarketresearch.com
Website: https://www.zionmarketresearch.com