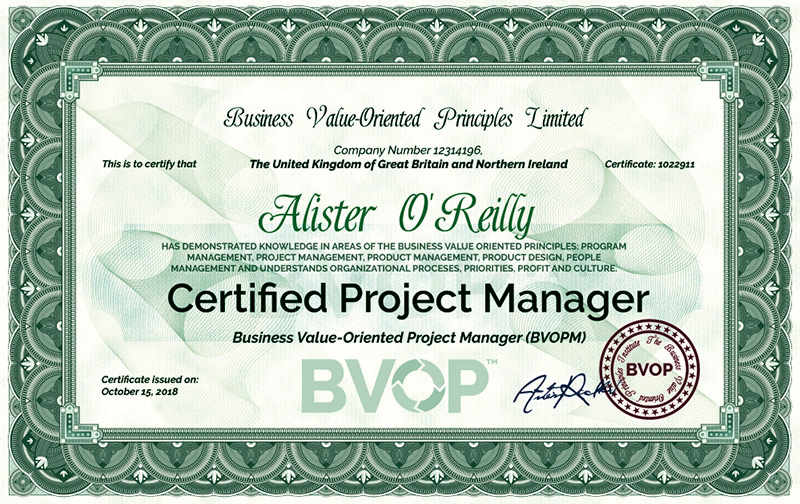 The certification body BVOP.org shares its best advice for both junior and senior project managers. The company has been offering project management certification programs for three years now, and its agents communicate daily with many managers around the world.
Candidates for the BVOP Project Management Certification Program are prepared free of charge by learning the BVOP Ultimate Guide book. However, the organization pays special attention to all inquiries and questions.
BVOP so far has won many allies and followers who share its philosophy. Some are, for example, the popular US media CIO.com, Scrum Time (ISSN 2652-5445 Online serial issued by the Australian ISSN Agency), Agile Programming (ISSN 2652-5925 ISSN issued by The Australian ISSN Agency), PM.MBA, BusinessPad, PolicyMatters (ISSN: 1941-8280), PGOV, Wider Europe (ISSN 2563-1527 Issued by ISSN Canada, Library and Archives Canada), PMA, Mmrls.org, Wikipedia-Lab, and many others.
Over the years, BVOP has collected some data about the professional practices of project managers. 2021 is nearing. BVOP shares its suggestions for project managers for next year. BVOP also collected statistics on project failure and categorized several main reasons. 
There is no technical project. There are business ventures with technical elements. Many of the projects require professional content, especially when it comes to IT projects or those with strong IT engagement. A common example of this is the initiation of a CRM application in a business organization. The project manager may be tempted to examine the complexities of technical design, especially if he feels qualified in this field. And this will most likely lead to a significant functional mistake. Because as a project manager, he is not required to assist in technical tasks and take care of the features, but to control the "big picture" – setting goals, moving in the right direction, managing implementation and resources.
Previously, in the topic of technical and common skills of the project manager, it was said that professional abilities and relevant professional skills can seriously interfere with the development of the end product. Conceptual skills, awareness, and professional views, on the other hand, are what it takes for a senior project manager to succeed. The project manager must be an expert in their field. If they have IT experience, they should not be tempted to engage in technical assignments.
Time is not money. One hour of planning now will save two hours of work on the next day. Planning saves unnecessary work not only for the project manager but also for the whole team. Professionals understand how essential good planning is for the business. But there is another risk here – unnecessary planning. It is not unusual for a project manager to spend too much time designing charts and diagrams, assigning stuff to tasks, providing presentations and timelines, and so on. The main questions that need to be carefully outlined in practice are two – a deadline and a budget.
It seems easy, but when planning the deadline for a project, one of the two main mistakes is often made. First, the deadline is too soon and has been imposed under pressure from the senior director. Senior management gives its orders most often with the following motivating note: "I'm sure you can do it in a shorter time." As a project manager, carefully plan the time needed for the overall implementation and be sure to provide a reserve. Remember that time is money, but money cannot buy time.
Another reason for the failure of a project is the insufficient budget. The well-known Cheops law in project management says that nothing is made within the designated time and budget. When a project manager takes over the management of a project, the most crucial matter to consider is ensuring the budget, not asking for team buildings, for example.
Every project manager needs an agreed budget. There is a popular practice in estimating the budget. When the project manager calculates the initial budget, they may increase it by another 20%. And they should not give up on budget negotiations.
To its applicants for the BVOP Project Management Certificate, the organization recommends not only to be aware of these topics. Candidates must believe in business value-oriented principles. To successfully pass the certification exam, students must know perfectly not only the project management topics included in the BVOP Ultimate Guide but also all product chapters in the book. The enrichment of experience and knowledge is of particular importance for modern professionals in any organization.
See Campaign:
http://bvop.org/projectmanagement/
Contact Information:
Liam James
Business Value-Oriented Principles Ltd.
148 High St, Scunthorpe DN15 6EN, United Kingdom
766 5th Ave, New York, NY 10019, USA
5796-5718 Avenue Déom, Montréal, QC, H3S 2N4, Canada
+1 646-515-4470
contacts@bvop.org
https://bvop.org
Tags:
, Financial Content, Content Marketing, IPS, Reportedtimes, Google News, Extended Distribution, iCN Internal Distribution, English
Contact Information:
Liam James
Business Value-Oriented Principles Ltd.
148 High St, Scunthorpe DN15 6EN, United Kingdom
766 5th Ave, New York, NY 10019, USA
5796-5718 Avenue Déom, Montréal, QC, H3S 2N4, Canada
+1 646-515-4470
contacts@bvop.org
https://bvop.org