If you want to start a website, the most crucial part of designing one is finding the perfect host. The internet, however, is filled with options that can be overwhelming and often confusing. While everyone aims to look for the best hosting service, the most popular ones tend to be expensive. For beginners to invest huge sums into a web hosting service may not seem reasonable.
When it comes to finding affordable and useful web host providers, HostMonster is one of the names that stand out. This web hosting service gives you all that is necessary for you to develop and launch your website successfully. So, if you are just starting out with your website, this review will give you clarity on whether or not HostMonster will work out for you.
About HostMonster
HostMonster is a sister company of BlueHost and comes from the same parent company EIG (Endurance International Group). HostMonster has been providing web hosting services since 1996 and was mainly aimed at individuals and smaller businesses. It helps professionals and startups launch competent-looking websites. You don't need to know the technical know-how of constructing a website. HostMonster will guide you through it all.
This hosting service has a user-friendly interface and can be used by beginners and bloggers with ease. They even get one-click WordPress installation and other services such as Cube Cart and Drupal instantly. Moreover, an excellent customer service makes HostMonster a viable and friendly option for people looking at starting a website. You can try their demo account to have a look at the services they offer for a clearer picture of what HostMonster has to offer.
Pros Of Using HostMonster
Excellent Uptime
Uptime decides how many hours your website is live and accessible. HostMonster gives your site an average uptime of 99.96%, which is higher than the average uptime in the industry. The maximum uptime a host can provide is 99.9%, which means that your site may be down for an average of 8 hours throughout the year. So, in comparison, HostMonster can provide its customers with a decent uptime keeping their websites active.
Fantastic Security Options
Security is the most crucial element to keep hackers at bay, and HostMonster has several options to offer here. According to online surveys, about 41% of websites get hacked due to faults in the hosting provider. With HostMonster, you can get security options such as SSL support, Hotlink Protection, SSH Access, SpamAssassin Protection, and regular site backups.
Superb Customer Support
You can connect with HostMonster's 24×7 customer support for any technical issues and get successful solutions for all. You can get in touch with them via telephone, live chat, or emails. HostMonster also has an excellent user forum for interaction with its community. The company has a superb knowledge base and has over 500 articles that can help you overcome any problem that you may be facing.
Value For Money
HostMonster provides some amazing unmetered bandwidth and up to 50GB storage space for even the most basic plans. Not to mention, these plans come at a super affordable rate. They include several freebies to attract customers. Overall, this hosting service is totally worth the money.
Quick Website Building
You don't need to learn coding to create your website with this hosting provider. You simply have to drag and drop, and your site will be ready within minutes. You can select from their pre-built site designs and add in your own elements to develop your site. Moreover, HostMonster ensures that your website looks professional and not something designed by an amateur.
Friendly Interface and cPanel
HostMonster has a user-friendly interface keeping in mind that most of its customers are beginners. The cPanel is easy to operate by newbies and experts alike. The interface is divided into domains, hosting, account tabs, and add-ons. It also has sub-tabs for each field. Those who have more expertise can switch to a more traditional cPanel too.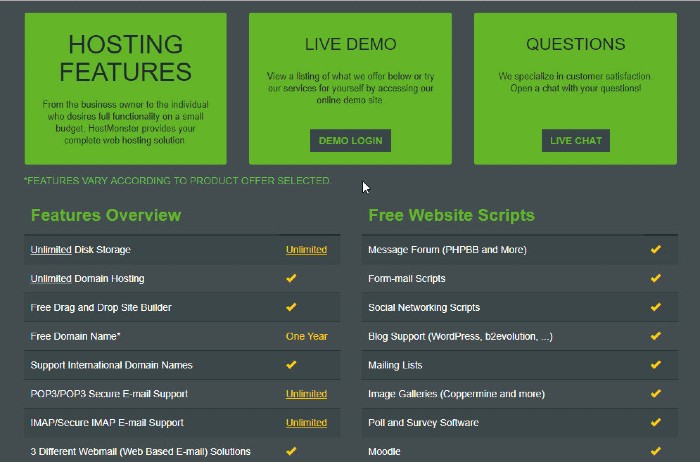 Cons Of Using HostMonster
Hidden Fees
HostMonster may be providing affordable web hosting, but they certainly have some hidden fees. Although not uncommon, HostMonster charges a nominal fee for backups, while several other host providers give this service for free. HostMonster also charges for migration, which most others provide for free up to a specific number of sites.
Slow Hosting Server
Even with an uptime of 99.96%, your website will have a bounce rate if your page takes too long to load. HostMonster users have often complained of a slow server, which has added to the web page loading time. Even though the page loading time isn't the worst in the industry, it can significantly affect conversion rates. Hence, this is something that HostMonster needs to work on.
Linux Hosting Only
HostMonster only provides Linux hosting and not Windows hosting. While most web servers prefer using a Linux-based operating system, there are several others who work on Windows. HostMonster is losing out on a customer-base by not tapping into the Windows market.
Prices Hike After 1 Year
HostMonster is known for providing affordable hosting services. However, the low prices last only for a year post which their customers see a considerable hike in the rates. Most web host providers hike renewal prices. HostMonster does give you the option of getting the promotional rates for three years if you pay in advance.
Already Decided To Try HostMonster? Check Out This Special Discount
Special Features That HostMonster Offers
HostMonster offers a free domain name for one year, just like several other web host providers. So, even at affordable rates, it keeps up with the industry trends.
You will get a free site builder with this hosting service. The site builder has preset apps to help you create a website with a few clicks.
It supports e-commerce sites as well. You can use the HostMonster marketplace to download scripts such as Joomla, Drupal, etc. and build an e-commerce site.
You will get regular site backups that take place daily, weekly, and monthly. So, if your site faces any issues, you can restore it from the backup files.
You will get advertising credits worth $200. You can use this money to run ads on Google and Bing and promote your website. However, this credit is only available in the plus and choice plus plans.
With HostMonster, you can get an SEO report to know how your website is functioning. You can get overall scores of visitors on your site, site ranking, SEO and mobile phone friendliness, etc.
You can migrate up to 5 websites and 20email accounts from your old web host to HostMonster with ease.
Pricing and Plans
HostMonster has three excellent shared hosting plans.
Basic Plan
The promotional offer for this plan is priced at $4.95 per month. You will get a hosting service for 1 website with 50GB space and unmetered bandwidth. You will also get a free SSL certificate and 5 email accounts in this offer. You will also get an email storage of 100MB per email account. The basic plan is priced at $9.49 per month upon renewal.
Plus Plan
You can buy the plus plan for $6.95 per month, which will revert to its original price of $14.99 per month upon renewal. You will be able to host unlimited websites with unlimited space and unmetered bandwidth. You also get unlimited emails with unlimited storage for each account. Additionally, you get marketing offers worth $200 and 1Spam expert for spam prevention.
Choice Plus
The choice plus plan is available at a discounted price of $6.95 per month in the promotional offer. You will get all the amenities provided in the plus plan, such as unlimited sites, bandwidth, storage, etc. and more. Along with spam prevention, you also get domain privacy and protection included in this plan. You even get CodeGuard Basic for backup protection. Upon renewal, you will have to pay the original price of $17.99 per month.
ALSO READ: HostMonster Reviews and Testimonials: Does It Work For Everyone?
Money-back Guarantee
HostMonster has a 30-days money-back guarantee. If you want to take advantage of the promotional offer but are worried about how the website will fare, then you can use this guarantee. You can pay in advance and try the web host for 30 days. If you are not satisfied with the way things are done, then cancel your subscription and get a full refund.
HostMonster provides you with a free domain name for one year. While they will refund your money for the services, they will charge you for the domain name. Luckily, you can keep the domain name and migrate it to another web host provider. So, it's not really money wasted, but money well spent.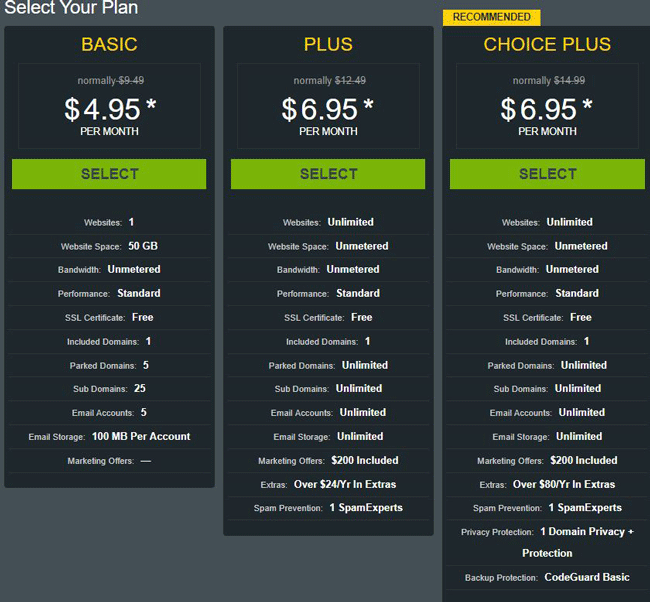 Final Verdict
HostMonster has mixed reviews from customers who have used it. However, whether this web host provider is right for you or not depends entirely on your requirements and usage. Overall, this hosting service has all the features that a standard host provides. Besides, it is backed by a parent company such as EIG, which is known for bracing several web host providers under one umbrella brand. This makes HostMonster a reliable service provider for those looking for a decent start.
Tags:
,
IPS
,
Content Marketing
,
Wire
,
English