Capitol Hills Criminal Undergroundis a non-fiction book that claims United States Senators are running a Mafia Style, Protection Racket. The book's author, Richard Lawless attempts to present clear evidence that there are trillions of dollars in fraudulent bonds being issued by major Wall Street firms. When those fraudulent bonds finally default, millions of dollars are sent to United States Senators to buy protection from investigations, prosecutions and regulatory action.
One of the Senators featured in the book is Kamala Harris. The books author brieftly touches on Senator Kamala Harris's alleged role in this criminal operation.
We encourage all Americans to take a look at the book and decide for themselves if a crime or crimes were committed and if Kamala Harris was involved.
The Publishing company and the Author are currently running a $10,000,000 reader contest for anyone that can identfiy, who in the book, Capitol Hills Criminal Underground, "Didn't Do It". The contest runs through December 31, 2020. See the Amazon Website for details.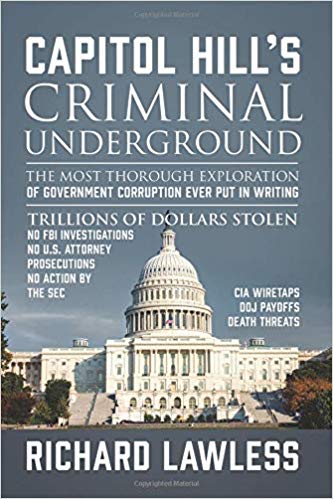 See Campaign:
http://www.amazon.com/Capitol-Hills-Criminal-Underground-Exploration/dp/0578209985/ref=sr_1_fkmrnull
Contact Information:
MedLaw Publishing
Richard R. Lawless
30279 Redding Avenue
Murrieta, CA 92563
951-440-5230
richardrlawless@gmail.com
Tags:
, IPS, Content Marketing, Google News, Extended Distribution, iCN Internal Distribution, English
Contact Information:
MedLaw Publishing
Richard R. Lawless
30279 Redding Avenue
Murrieta, CA 92563
951-440-5230
richardrlawless@gmail.com