Zion Market Research has published a new report titled "Vitamin E Market By Product (Synthetic Vitamin E, Natural Vitamin E [Tocopherol and Tocotrienols]) and By Application (Human Nutrition/Dietary Supplements, Functional Food & Beverages, Animal Nutrition, and Cosmetics): Global Industry Perspective, Comprehensive Analysis, and Forecast, 2018—2024". According to the report, the globalvitamin E marketwas valued at around USD 2.14 billion in 2017 and is expected to reach approximately USD 2.54 billion by 2024, at a CAGR of around 2% between 2018 and 2024.
Vitamin E is a major lipid-soluble antioxidant found in the cell system, which is solely obtained from consumption of food. It comprises two families of compounds: tocotrienols and tocopherol. Vegetable oils made from sunflower, olive, corn, rapeseed, and soybean along with oil-based nuts, spreads, and seeds, cereals, and egg yolk are a rich source of vitamin E. Dietary supplement-based vitamin E is available in the form of energy drinks, capsules, and tablets. Vitamin E helps in maintaining strong immunity, healthy eyes, and soft skin along with protecting cells from damage and has properties to prevent cancer, heart diseases, diabetes, and Alzheimer's. Furthermore, vitamin E supplements also help in treating vitamin deficiency.
The rising healthcare expenditure is shifting the high consumer demand for dietary supplements to stay fit and healthy. In addition, there are significant benefits of vitamin E, such as strong immunity, healthy eyes, and soft skin, protection from flu and cold, controlled blood pressure level, and prevention of cardiovascular diseases. Thus, the increasing inclination for products that contain natural and healthy ingredients is likely to drive the global vitamin E market growth over the forecast time period. Besides, growing concerns about lethal chemical additives utilized in food and beverage and personal care products are expected to further boost the global vitamin E market in the upcoming years.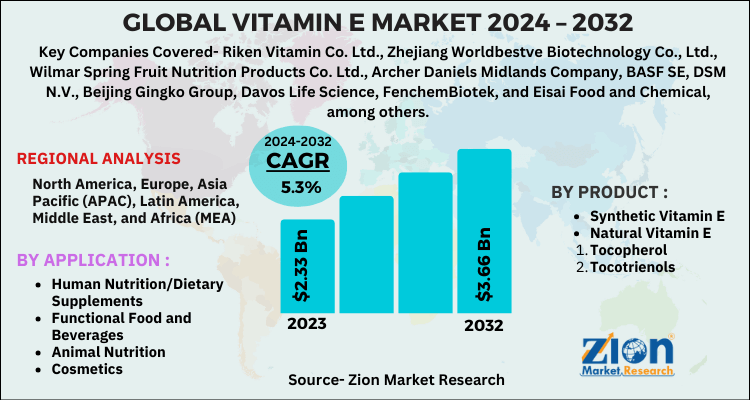 The global vitamin E market is segmented on the basis of product and application. By product, the market is segmented into synthetic vitamin E and natural vitamin E. Natural vitamin E is further divided into tocopherol and tocotrienols. Natural vitamin E segment is expected to attain a significant market share over the forecast time period. By application, the market is segmented into cosmetics, human nutrition/dietary supplements, animal nutrition, and functional food and beverages. Cosmetics are anticipated to be the fastest growing segment in the global market over the forecast time period. This can be attributed to the increasing consumer affordability and changing lifestyle. Vegetable oils, broccoli spinach, peanuts, sunflower seeds, and avocado are gaining wide acceptance in the manufacturing of sunscreens, lotions, creams, lipsticks, and anti-aging creams, which, in turn, is projected to further propel this segment's growth in the future.
By geography, the global vitamin E market includes North America, Europe, Asia Pacific, Latin America, and the Middle East and Africa. The Asia Pacific region is expected to show significant growth in the years to come, owing to the growing awareness about the importance of vitamins in the human body.
Some key players of the global vitamin E market are Riken Vitamin Co. Ltd., Zhejiang Worldbestve Biotechnology Co., Ltd., Wilmar Spring Fruit Nutrition Products Co. Ltd., Archer Daniels Midlands Company, BASF SE, DSM N.V., Beijing Gingko Group, Davos Life Science, Fenchem Biotek, and Eisai Food and Chemical, among others.
This report segments the global vitamin E market into:
GlobalVitamin E Market: Product Analysis
Synthetic Vitamin E
Natural Vitamin E
GlobalVitamin E Market:ApplicationAnalysis
Human Nutrition/Dietary Supplements
Functional Food and Beverages
Animal Nutrition
Cosmetics
GlobalVitamin E Market: Regional Analysis
North America
Europe
Asia Pacific
Latin America
The Middle East and Africa
You can Buy This Report from Here @https://www.zionmarketresearch.com/buynow/su/vitamin-e-market/news
See Campaign:
https://www.zionmarketresearch.com
Contact Information:
Zion Market Research
244 Fifth Avenue, Suite N202
New York, 10001, United States
Tel: +49-322 210 92714
USA/Canada Toll-Free No.1-855-465-4651
Email: sales@zionmarketresearch.com
Website: https://www.zionmarketresearch.com
Tags:
, Reportedtimes, IPS, iCN Internal Distribution, Research Newswire, English
Contact Information:
Zion Market Research
244 Fifth Avenue, Suite N202
New York, 10001, United States
Tel: +49-322 210 92714
USA/Canada Toll-Free No.1-855-465-4651
Email: sales@zionmarketresearch.com
Website: https://www.zionmarketresearch.com