Zion Market Research has published a new report titled "Matcha Market By Grade (Ceremonial, Classic, and Culinary), By Application (Regular Tea, Matcha Beverages, Food, and Personal Care & Cosmetics), and By Production Technology (Pan Fried and Steamed): Global Industry Perspective, Comprehensive Analysis, and Forecast, 2017—2024". According to the report, theglobal matcha marketwas valued around USD 2.68 billion in 2017 and is expected to reach approximately USD 4.83 billion by 2024, at a CAGR of around 9.25% between 2018 and 2024.
Matcha is Japanese style a powdered green tea leaf with high nutritional benefits as compared to other types of tea. It contains amino acid antioxidants, vitamin C, flavonoids, fiber, minerals, etc. Due to the presence of high antioxidants, matcha helps in preventing various chronic diseases and shields against harmful UV radiation. The EGCG antioxidant present in matcha has the ability to prevent varied types of cancers, such as brain prostate, bladder, and cervical. It helps in regulating angiogenesis and metastasis by inhibiting the growth of malignant cells.
The primary factor that is likely to drive the matcha market in the upcoming years is the rising production consumption rate and the growing health consciousness among the consumers regarding nutritious foods and beverages. This increased demand can be attributed to matcha's unique flavor, texture, and nutritional content. Matcha can be easily mixed with a wide variety of dairy products along with its various applications in bakery items and beverages. Ironic antioxidants and vitamin components in matcha are anticipated to further support the global match market in the years ahead.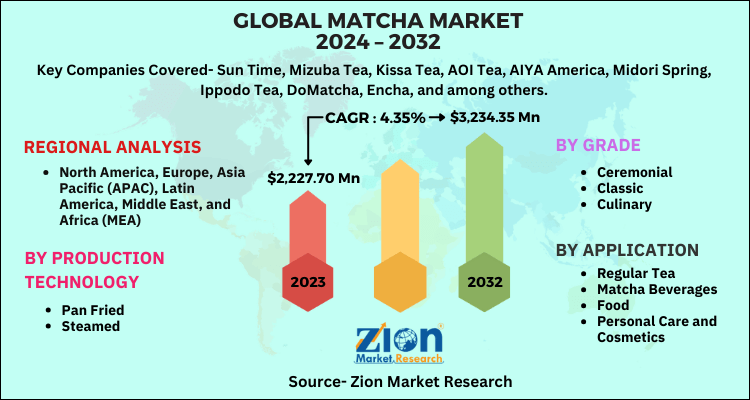 By grade, the global match market is fragmented into ceremonial, classic, and culinary. Ceremonial matcha is anticipated to dominate the global matcha market, due to its high quality, especially in Europe and North America. By application, the global match market is segmented into regular tea, matcha beverages, food, and personal care and cosmetics. By production technology, the global matcha market is bifurcated into pan-fried and steamed. The pan-fried production technology segment is anticipated to gain popularity over the forecast period, owing to its ease of manufacturing.
By geography, the global matcha market includes North America, Latin America, Asia Pacific, Europe, and the Middle East and Africa. The Asia Pacific match market is projected to grow substantially over the forecast time period, owing to shifting consumer preference to matcha in the region. The North American and European regions are anticipated to show a significant rate of growth in the matcha market over the estimated timeframe. This can be attributed to the growing youth population, the increasing purchasing power of people, and the rising acceptance of matcha. The Middle Eastern and African and Latin American regions are projected to show a sluggish rate of growth over the forecast period due to low consumer awareness about matcha.
Some key players of the global matcha market are Sun Time, Mizuba Tea, Kissa Tea, AOI Tea, AIYA America, Midori Spring, Ippodo Tea, DoMatcha, and Encha, among others.
This report segments the global matcha market into:
GlobalMatchaMarket: Grade Analysis
Ceremonial
Classic
Culinary
GlobalMatchaMarket: Application Analysis
Regular Tea
Matcha Beverages
Food
Personal Care and Cosmetics
GlobalMatchaMarket: Production Technology Analysis
GlobalMatchaMarket: Regional Analysis
North America
Europe
Asia Pacific
Latin America
The Middle East and Africa
You can Buy This Report from Here @https://www.zionmarketresearch.com/buynow/su/matcha-market/news
See Campaign:
https://www.zionmarketresearch.com
Contact Information:
Zion Market Research
244 Fifth Avenue, Suite N202
New York, 10001, United States
Tel: +49-322 210 92714
USA/Canada Toll-Free No.1-855-465-4651
Email: sales@zionmarketresearch.com
Website: https://www.zionmarketresearch.com
Tags:
, Reportedtimes, IPS, iCN Internal Distribution, Research Newswire, English
Contact Information:
Zion Market Research
244 Fifth Avenue, Suite N202
New York, 10001, United States
Tel: +49-322 210 92714
USA/Canada Toll-Free No.1-855-465-4651
Email: sales@zionmarketresearch.com
Website: https://www.zionmarketresearch.com