Zion Market Research has published a new report "Expanded Polystyrene Market by Product Type (Grey, White, and Black) and by End-Use Industry (Packaging, Building & Construction, Electrical & Electronics, Consumer Goods, and Others): Global Industry Perspective, Comprehensive Analysis, and Forecast, 2019—2025". According to the report, the globalexpanded polystyrene marketwas valued at USD 15.52 billion in 2018 and is expected to reach USD 22.13 billion by 2025, at a CAGR of 5.2% between 2019 and 2025.
Expanded polystyrene or EPS is made up of styrene monomers and pentane. Pentane acts as the expanding agent in expanded polystyrene. It is an excellent material for construction and packaging, due to its lightweight and rigid foam with high impact resistance and good thermal insulation. Expanded polystyrene is available in a multitude of shapes and applications. It is used for electrical consumer goods packaging, fish boxes, and insulation panels in buildings.
The growing construction industry across the globe is expected to drive the global expanded polystyrene market in the future, as expanded polystyrene is widely used in roofing and flooring of buildings. The increase in the residential and commercial construction activities globally is projected to further boost the expanded polystyrene market growth globally in the years ahead. However, the oscillating prices of raw materials and stringent environmental regulations might hamper the expanded polystyrene market on a global scale. Conversely, the growing demand for recycled polystyrene products across the world is projected to provide new growth opportunities for the expanded polystyrene market in the upcoming years.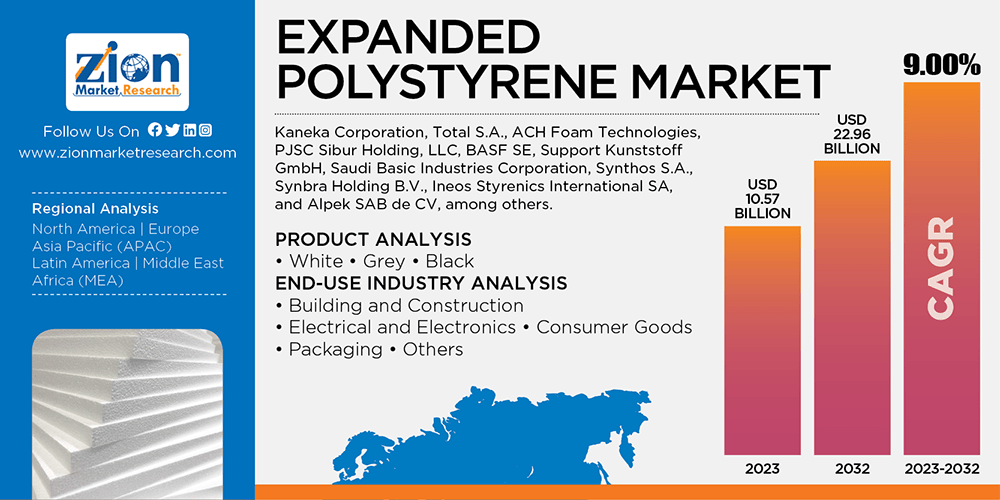 The global expanded polystyrene market is classified based on the product type and end-user industry. Based on product type, the global expanded polystyrene market includes grey, white, and black. White expanded polystyrene dominated the market in 2017 and is projected to continue its dominance throughout the forecast time period as well. This can be attributed to its excellent properties, such as superior mechanical durability and water resistance. Based on end-use industry, the global expanded polystyrene market includes packaging, building and construction, electrical and electronics, consumer goods, and others. The building and construction sector was the largest consumer of expanded polystyrene in 2017, due to the various advantages of expanded polystyrene, such as energy efficiency, enhanced durability, and improved indoor environmental quality. It is also widely used in the construction industry.
By region, the global expanded polystyrene market is segmented into Asia Pacific, Europe, Latin America, North America, and the Middle East and Africa. The Asia Pacific region is likely to be the largest expanded polystyrene market and held the largest market share globally in 2017. This can be attributed to the rapidly growing construction industry in the Asia Pacific, which makes use of expanded polystyrene as an essential raw material. Additionally, the region's flourishing packaging is projected to further boost the Asia Pacific expanded polystyrene market in the future.
Some key manufacturers of the global expanded polystyrene market are Kaneka Corporation, Total S.A., ACH Foam Technologies, PJSC Sibur Holding, LLC, BASF SE, Support Kunststoff GmbH, Saudi Basic Industries Corporation, Synthos S.A., Synbra Holding B.V., Ineos Styrenics International SA, and Alpek SAB de CV, among others.
This report segments the global expanded polystyrene market as:
GlobalExpanded PolystyreneMarket: Product Analysis
GlobalExpanded Polystyrene Market: End-Use Industry Analysis
Building and Construction
Electrical and Electronics
Consumer Goods
Packaging
Others
GlobalExpanded PolystyreneMarket: Regional Analysis
North America
Europe
Asia Pacific
Latin America
The Middle East and Africa.
You can Buy This Report from Here @https://www.zionmarketresearch.com/buynow/su/expanded-polystyrene-market/news
See Campaign:
https://www.zionmarketresearch.com
Contact Information:
Zion Market Research
244 Fifth Avenue, Suite N202
New York, 10001, United States
Tel: +49-322 210 92714
USA/Canada Toll-Free No.1-855-465-4651
Email: sales@zionmarketresearch.com
Website: https://www.zionmarketresearch.com
Tags:
, IPS, Reportedtimes, iCN Internal Distribution, Research Newswire, English
Contact Information:
Zion Market Research
244 Fifth Avenue, Suite N202
New York, 10001, United States
Tel: +49-322 210 92714
USA/Canada Toll-Free No.1-855-465-4651
Email: sales@zionmarketresearch.com
Website: https://www.zionmarketresearch.com