Zion Market Research has published a new report titled "Prescription Dermatology Therapeutics Market by Product Type (Psoriasis Drugs, Acne and Rosacea Drugs, Dermatitis and Seborrhea Drugs, Skin Cancer, and Fungal Infection Drugs) and by Distribution Channel (Mail Order Pharmacies, Retail Pharmacies, and Hospital Pharmacies): Global Industry Perspective, Comprehensive Analysis, and Forecast, 2017—2024". According to the report, the globalprescription dermatology therapeutics marketwas valued at approximately USD 28 billion in 2017 and is expected to generate around USD 53.9 billion by 2024, at a CAGR of around 9.9% between 2018 and 2024.
Skin is vulnerable to a wide variety of toxins and microbes as it is the largest and most exposed organ. Prolonged exposure of skin to toxins results in various kinds of skin disorders. This, in turn, fuels the demand for dermatology therapeutics globally. Acne treatment drugs are the most common type of prescription drugs, which are also used to improve the skin's texture and color. According to the American Academy of Dermatology, acne is the most prevalent skin condition, which affects nearly 50 million Americans annually. Dermatology drugs prescribed to treat baldness are also very common. Hair loss can be caused by various factors, such as hormonal causes, stress, chemotherapy, radiation, etc.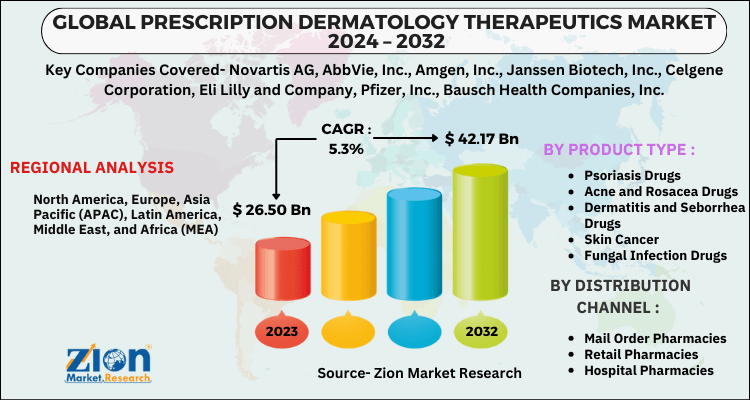 Psoriasis is a chronic skin disorder caused by an overactive immune system. Inflammation, flaking, and thick, silvery, white, or red skin patches are the most common symptoms of psoriasis. Oral medications, steroid creams, and light therapy are used to treat psoriasis. In psoriasis, skin cells multiply ten times faster than in a normal human. Psoriasis most often develops on elbows, scalp, lower back, and knees. Skin cancer is one of the most common types of cancer, which is caused due to abnormal skin cells growth.
Intensive research to offer therapies for dermatological disorders, increasing number of people affected with dermatological disorders, efforts taken by leading pharmaceutical companies to offer effective treatments, huge investments made in research and development by pharmaceutical companies, and strategic alliances established by companies to speed up the development process of new products are likely to be major growth factors for the global prescription dermatology therapeutics market. However, stringent regulations regarding approvals, the high cost of certain specialized medicines, and the absence of insurance and reimbursement policies might restrict the prescription dermatology therapeutics market globally in the near future.
The global prescription dermatology therapeutics market has been segmented into product type and distribution channel. By product type, the prescription dermatology therapeutics market includes psoriasis drugs, acne and rosacea drugs, dermatitis and seborrhea drugs, skin cancer, and fungal infection drugs. Psoriasis drugs held the majority market share in 2017, due to the increasing cases of psoriasis and prolonged treatment period. The distribution channel segment includes mail order pharmacies, retail pharmacies, and hospital pharmacies.
By region, the North American prescription dermatology therapeutics market is likely to be the most prominent region in the years ahead. This can be attributed to the increasing cases of dermatological disorders and the growing importance of physical appearance in the region. Europe is anticipated to be the second largest prescription dermatology therapeutics market, due to the growing influence of celebrity culture and increasing spending on personal care.
Some key players of the prescription dermatology therapeutics market include Novartis AG, AbbVie, Inc., Amgen, Inc., Janssen Biotech, Inc., Celgene Corporation, Eli Lilly and Company, Pfizer, Inc., Bausch Health Companies, Inc., LEO Pharma A/S, Aurobindo Pharma Ltd., Sun Pharmaceuticals Ltd., and Aclaris Therapeutics, Inc., among others.
This report segments the global prescription dermatology therapeutics market into:
Global Prescription Dermatology Therapeutics Market: By Product Type
Psoriasis Drugs
Acne and Rosacea Drugs
Dermatitis and Seborrhea Drugs
Skin Cancer
Fungal Infection Drugs
Global Prescription Dermatology Therapeutics Market: By Distribution Channel
Mail Order Pharmacies
Retail Pharmacies
Hospital Pharmacies
Global Prescription Dermatology Therapeutics Market: By Region
North America
Europe
Asia Pacific
Latin America
The Middle East and Africa
You can Buy This Report from Here @https://www.zionmarketresearch.com/buynow/su/prescription-dermatology-therapeutics-market/news
See Campaign:
https://www.zionmarketresearch.com
Contact Information:
Zion Market Research
244 Fifth Avenue, Suite N202
New York, 10001, United States
Tel: +49-322 210 92714
USA/Canada Toll-Free No.1-855-465-4651
Email: sales@zionmarketresearch.com
Website: https://www.zionmarketresearch.com
Tags:
, IPS, iCN Internal Distribution, Research Newswire, English
Contact Information:
Zion Market Research
244 Fifth Avenue, Suite N202
New York, 10001, United States
Tel: +49-322 210 92714
USA/Canada Toll-Free No.1-855-465-4651
Email: sales@zionmarketresearch.com
Website: https://www.zionmarketresearch.com