Zion Market Research has published a new report titled "Animal Genetics Market by Product (Live Animals (Porcine, Poultry, Canine, Bovine, and Others) and Genetic Material (Embryo and Semen)) and by Service (Genetic Disease Tests, Genetic Trait Tests, DNA Typing, and Others): Global Industry Perspective, Comprehensive Analysis, and Forecast, 2017—2024". According to the report, the globalanimal genetics marketwas valued at approximately USD 4.1 billion in 2017 and is expected to generate around USD 6.5 billion by 2024, at a CAGR of around 6.8% between 2018 and 2024.
Animal genetics involves the genetic variation and inheritance in both wild and domestic animals. Animal genetics covers animal breeding, gene expression, and physical genetic feature, such as coat color, etc. Animal genetics is centered on general genetic concepts and principles. The hybrid analysis is the primary method of learning the inheritance of various characteristics, which plays a major role in determining the essence of inheritance of multiple biochemical, physiological, and morphological traits.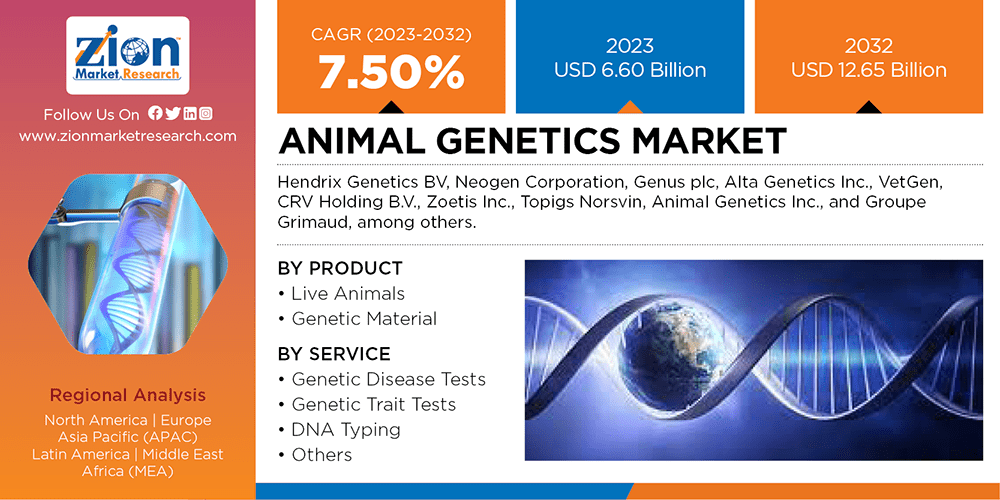 Increasing adoption of innovative genetic technologies, rising execution of animal welfare resolutions, the growing requirement of animal proteins, huge acceptance of genetic services, cutting-edge genetic practices, rising focus on detecting superior breeds, and increasing requirement for animal products are likely to drive the key animal genetics market globally in the upcoming years. Increasing population increased animal epidemics, and the growing necessity of non-antibiotic development of promoters are anticipated to further propel the animal genetics market in the years ahead. However, the high cost related to animal testing, strict regulatory framework, the dearth of skilled veterinary research professionals, and growing concerns regarding the adverse effects of employing the animal genetic engineering might restrict the animal genetics market in the upcoming years globally.
The global animal genetics market has been segmented into product and service. By product, the animal genetics market includes live animals and genetic material. Live animals are further segmented into porcine, poultry, canine, bovine, and others. The porcine segment is expected to register a high CAGR over the estimated timeframe due to the huge demand for pork products. Genetic material is sub-segment into embryo and semen. The embryo is further segmented into equine, bovine, and others. Semen has been sub-segmented into porcine, bovine, canine, and others. By service, this market includes genetic disease tests, genetic trait tests, DNA typing, and others.
By region, this market includes North America, Europe, Asia Pacific, Latin America, and the Middle East and Africa. North America is likely to lead animal genetics market over the forecast time period, owing to the presence of major market players in the region, high acceptance of modern technologies for animal genetics, and well-established livestock sector. Europe is the second largest market for animal genetics, owing to rapid urbanization, increasing demand for animal products, and rising pet population. According to the European pet food industry federation, around 75 million European households have pets. The Asia Pacific is likely to grow considerably over the forecast time period, due to the growing animal welfare awareness and high livestock population.
Some key players of the animal genetics market include Hendrix Genetics BV, Neogen Corporation, Genus plc, Alta Genetics Inc., VetGen, CRV Holding B.V., Zoetis Inc., Topigs Norsvin, Animal Genetics Inc., and Groupe Grimaud, among others.
This report segments the global animal genetics market into:
Global Animal Genetics Market: By Product
Live Animals

Porcine
Poultry
Canine
Bovine
Others

Genetic Material

Embryo
Semen

Porcine
Bovine
Canine
Others
Global Animal Genetics Market: By Service
Genetic Disease Tests
Genetic Trait Tests
DNA Typing
Others
Global Animal Genetics Market: By Region
North America
Europe
Asia Pacific
Latin America
The Middle East and Africa
You can Buy This Report from Here @https://www.zionmarketresearch.com/buynow/su/animal-genetics-market/news
See Campaign:
https://www.zionmarketresearch.com
Contact Information:
Zion Market Research
244 Fifth Avenue, Suite N202
New York, 10001, United States
Tel: +49-322 210 92714
USA/Canada Toll-Free No.1-855-465-4651
Email: sales@zionmarketresearch.com
Website: https://www.zionmarketresearch.com
Tags:
, IPS, iCN Internal Distribution, Research Newswire, English
Contact Information:
Zion Market Research
244 Fifth Avenue, Suite N202
New York, 10001, United States
Tel: +49-322 210 92714
USA/Canada Toll-Free No.1-855-465-4651
Email: sales@zionmarketresearch.com
Website: https://www.zionmarketresearch.com