Zion Market Research has published a new report titled "Embolization Particle Market by Particle Type (Microspheres, Particles, Drug Eluting Beads, and Radio Embolic Microspheres), by Application (Trauma Embolization, Liver Tumor Embolization, Prostatic Artery Embolization, Uterine Fibroid Embolization, and Others): Global Industry Perspective, Comprehensive Analysis, and Forecast, 2017—2024". According to the report, the globalembolization particle marketwas valued at approximately USD 1161 million in 2017 and is expected to generate around USD 2577 million by 2024, growing at a CAGR of around 12.1% between 2018 and 2024.
Embolization particles are irregular and small flakes of polyvinyl alcohol that are used for blood occlusion. These particles are injected into blood vessels to cut the blood supply to tumors, which, in turn, shrink the malformation. These are also used to stop bleeding from wounds during trauma. Embolization particles are used to treat cancers that cannot be removed by surgery, due to their huge size and proximity to vital organs that can be life-threating for the patient if operated upon. Embolization therapy is performed by interventional radiologists and offers many benefits as compared to conventional surgical treatments.
Get PDF Sample Copy of this Report to understand the structure of the complete report @https://www.zionmarketresearch.com/sample/embolization-particle-market/news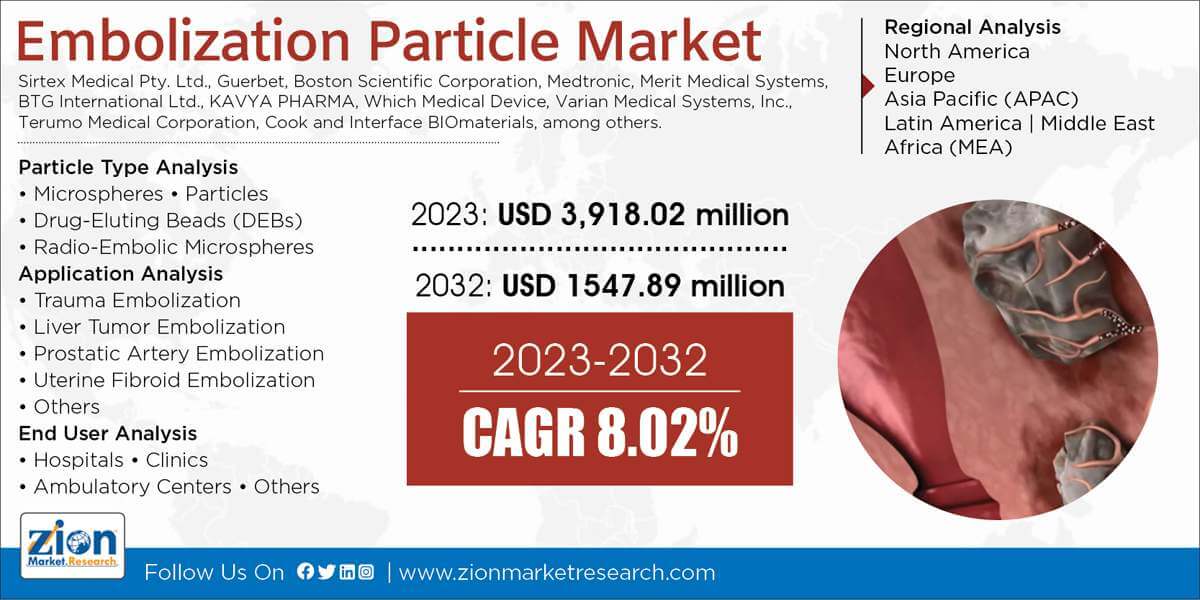 There increased prevalence of cancers and tumors is likely to drive the embolization particle market over the forecast time period. As per the National Cancer Institute 2018 Report, there were around 1,735,350 new cancer cases in the U.S. This number is expected to reach 23.6 million by 2030. Moreover, substantial technological advancements made in the healthcare industry are leading to various new product launches for the treatment of varied chronic conditions. Furthermore, the increasing awareness among people about embolization particle is likely to lead to an increased demand for embolization particle over the estimated time period. Moreover, the increase in the interventional procedure and rise in the number of minimally invasive surgeries due to positive and effective results are expected to support the embolization particle market in the years ahead. However, the lack of skilled interventional cardiologists might limit the embolization particle market in the future.
The embolization particle market is segmented on the basis of particle type and application. Based on particles type, the embolization particle market is segmented into microspheres, particles, drug-eluting beads (DEBs), and radio-embolic microspheres. Particles are expected to dominate the market in the upcoming years. Based on application, the embolization particle market is segmented into trauma embolization, liver tumor embolization, prostatic artery embolization, uterine fibroid embolization, and others. Trauma embolization is likely to grow rapidly in the estimated time period.
By region, this global market includes North America, Europe, Asia Pacific, Latin America, the Middle East, and Africa. North America is likely to dominate the embolization particle market in the upcoming years, owing to the presence of developed countries and advanced healthcare infrastructure. Europe is expected to closely follow North America in terms of revenue. The Asia Pacific region is projected to grow rapidly owing to the presence of developing economies, such as India and China. Latin American and the Middle Eastern and African regions are expected to grow moderately in the forecast time period.
Some major players of the embolization particle market include Sirtex Medical Limited, Boston Scientific Corporation, Merit Medical Systems, BTG International Ltd., Cook Medical, and Interface BIOmaterials, among others.
This report segments the global embolization particle market as follows:
Global Embolization Particle Market: Particle Type Analysis
Microspheres
Particles
Drug-Eluting Beads (DEBs)
Radio-Embolic Microspheres
Global Embolization Particle Market: Application Analysis
Trauma Embolization
Liver Tumor Embolization
Prostatic Artery Embolization
Uterine Fibroid Embolization
Others
Global Embolization Particle Market: Regional Analysis
North America
Europe
Asia Pacific
Latin America
The Middle East and Africa
You can Buy This Report from Here @https://www.zionmarketresearch.com/buynow/su/embolization-particle-market/news
See Campaign:
https://www.zionmarketresearch.com
Contact Information:
Zion Market Research
244 Fifth Avenue, Suite N202
New York, 10001, United States
Tel: +49-322 210 92714
USA/Canada Toll-Free No.1-855-465-4651
Email: sales@zionmarketresearch.com
Website: https://www.zionmarketresearch.com
Tags:
, Reportedtimes, IPS, iCN Internal Distribution, Research Newswire, English
Contact Information:
Zion Market Research
244 Fifth Avenue, Suite N202
New York, 10001, United States
Tel: +49-322 210 92714
USA/Canada Toll-Free No.1-855-465-4651
Email: sales@zionmarketresearch.com
Website: https://www.zionmarketresearch.com