Zion Market Research has published a new report titled "Medical Equipment Maintenance Market by Service Type (Preventive, Operational, and Corrective), by Device Type (Electromedical Equipment, Imaging Equipment, Surgical Instruments, Endoscopic Devices, and Other Medical Equipment), by Service Provider (Original Equipment Manufacturers, Independent Service Organizations, and In-House Maintenance), and by End-User (Hospitals, Ambulatory Surgical Centers, Diagnostic Centers, and Other End-Users): Global Industry Perspective, Comprehensive Analysis, and Forecast, 2017—2024". According to the report, the globalmedical equipment maintenance marketwas valued at approximately USD 26.2 billion in 2017 and is expected to generate revenue of around USD 51.9 billion by 2024, growing at a CAGR of around 10.26% between 2018 and 2024.
Medical devices play an important role in disease diagnosis and treatment and are valuable assets to human lives. Medical equipment maintenance has become an essential practice for the healthcare sector. Medical devices require considerable investments. Scheduled and managed equipment maintenance plays a vital role for safe, reliable, and accurate test results for diagnostic procedures and patient monitoring therapy and treatment.
Get PDF Sample Copy of this Report to understand the structure of the complete report @https://www.zionmarketresearch.com/sample/medical-equipment-maintenance-market/news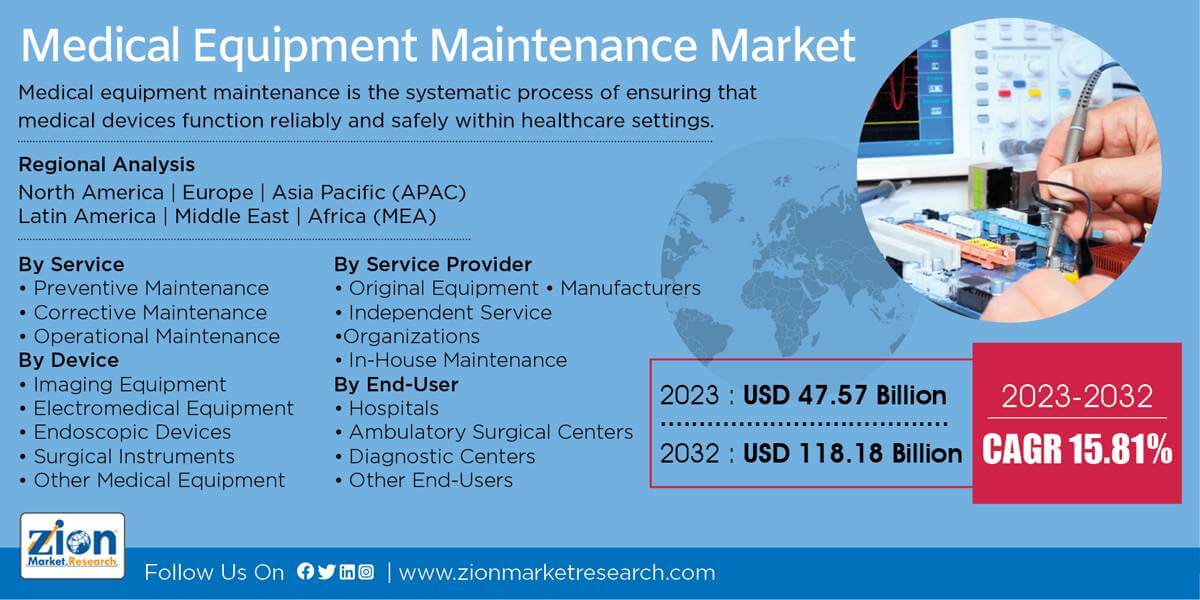 The worldwide demand for medical equipment is growing rapidly, owing to the increasing prevalence of life-threatening diseases. Preventive maintenance is widely accepted to maintain proper functioning and accidental breakdown of equipment. Thus, the growing focus on preventive maintenance is likely to drive the market. Technologically advanced and high costs of medical equipment are projected to drive the demand for refurbished medical equipment. Wide acceptance and consumption of refurbished medical equipment, in turn, is anticipated to drive the medical equipment maintenance market. Increasing installations of new and advanced medical equipment in hospitals, clinics, diagnostic centers, etc., are likely to further drive the medical equipment maintenance market in the future. Additionally, the high burden of chronic disorders and the increase in the aging population are other factors likely to indirectly contributing toward the medical equipment maintenance market. However, high maintenance cost might hamper the market for medical equipment maintenance market. Nevertheless, the increasing service offerings and the use of internet of things are likely to create further growth opportunities for the medical equipment maintenance market globally.
The global medical equipment maintenance market is divided based on service type, device type, service provider, and end-user. By service type, the market is categorized into preventive maintenance, operational maintenance, and corrective maintenance. Preventive maintenance segment held the largest market share in 2017, due to the increasing use of medical equipment and the need to prevent equipment break down. By device type, the market is segmented into endoscopic devices, imaging equipment, electromedical equipment, surgical instruments, and other medical equipment. The imaging equipment segment is sub-segmented into advanced imaging modalities and primary imaging modalities. Advanced imaging modality segment is further categorized into computed tomography (CT), Magnetic resonance imaging (MRI), and other advanced medical imaging modalities, such as angiography systems, PET-CT, PET, SPECT-CT, gamma cameras etc. The primary imaging modalities include digital X-ray, ultrasound, and other modalities, such as mammography systems, general X-ray systems, bone densitometers etc. By service provider, this global market includes independent service organizations, original equipment manufacturers, and in-house maintenance. The end-user segment of the medical equipment maintenance market comprises hospitals, diagnostic centers, ambulatory surgical centers, and other end-users. Hospitals dominated the market in 2017, in terms of revenue share, and are projected to hold the leading position over the forecast time period as well.
North America, Asia Pacific, the Middle East, and Africa, Europe, and Latin America comprise the regional segment of the global medical equipment maintenance market. North America held about 43% revenue share of the global medical equipment maintenance market in 2017 and is expected to maintain its leading position in the forecast time period as well. This was due to the increasing focus to avoid equipment breakdown. Europe was the second largest global medical equipment maintenance market in 2017 while the Asia Pacific was an emerging regional market. Huge acceptance of medical equipment maintenance activities to avoid breakdown is likely to drive the European market for medical equipment maintenance. Increasing geriatric population base and a large population base with life-threatening diseases in the Asia Pacific region are likely to contribute toward this regional market.
Some key players of the global medical equipment maintenance market include Siemens Healthineers, GE Healthcare, Koninklijke Philips N.V., Toshiba Medical System Corporation, Carestream Health, Inc., FUJIFILM Holdings Corporation, Agfa-Gevaert Group, Hitachi Medical Corporation, Drgerwerk AG & Co. KGaA, Aramark Services, Inc., Olympus Corporation, Althea Group, BC Technical, Inc., and B. Braun Melsungen AG, among others.
This report segments the global medical equipment maintenance market into:
Global Medical Equipment Maintenance Market: By Service
Preventive Maintenance
Corrective Maintenance
Operational Maintenance
Global Medical Equipment Maintenance Market: By Device
Imaging Equipment

Advanced Imaging Modalities

Computed tomography(CT)
Magnetic Resonance Imaging (MRI)
Other Advanced Medical Imaging Modalities (SPECT-CT, PET-CT, PET, Gamma Cameras, and Angiography Systems)

Primary Imaging Modalities

Digital X-Ray
Ultrasound
Other Primary Medical Imaging Modalities (General X-ray Systems, Mammography Systems, and Bone Densitometers)

Electromedical Equipment
Endoscopic Devices
Surgical Instruments
Other Medical Equipment

Life Support Devices
Dental Equipment
Global Medical Equipment Maintenance Market: By Service Provider
Original Equipment Manufacturers
Independent Service Organizations
In-House Maintenance
Global Medical Equipment Maintenance Market: By End-User
Hospitals
Ambulatory Surgical Centers
Diagnostic Centers
Other End-Users
Global Medical Equipment Maintenance Market: By Region
North America
Europe
Asia Pacific
Latin America
The Middle East and Africa
You can Buy This Report from Here @https://www.zionmarketresearch.com/buynow/su/medical-equipment-maintenance-market/news
See Campaign:
https://www.zionmarketresearch.com/
Contact Information:
Zion Market Research
244 Fifth Avenue, Suite N202
New York, 10001, United States
Tel: +49-322 210 92714
USA/Canada Toll-Free No.1-855-465-4651
Email: sales@zionmarketresearch.com
Website: https://www.zionmarketresearch.com
Tags:
, IPS, iCN Internal Distribution, Research Newswire, English
Contact Information:
Zion Market Research
244 Fifth Avenue, Suite N202
New York, 10001, United States
Tel: +49-322 210 92714
USA/Canada Toll-Free No.1-855-465-4651
Email: sales@zionmarketresearch.com
Website: https://www.zionmarketresearch.com