Zion Market Research has published a new report titled "Wearable Artificial Kidney Market by indication (Acute Renal Disease and End Stage Renal Disease): Global Industry Perspective, Comprehensive Analysis and Forecast, 2019 – 2025". According to the report, global demand for Wearable Artificial Kidney Market was valued at approximately USD 4.48 Billion in 2018, and is expected to generate revenue of around USD 10.7 Billion by end of 2025, growing at a CAGR of around 13.24 % between 2019 and 2025.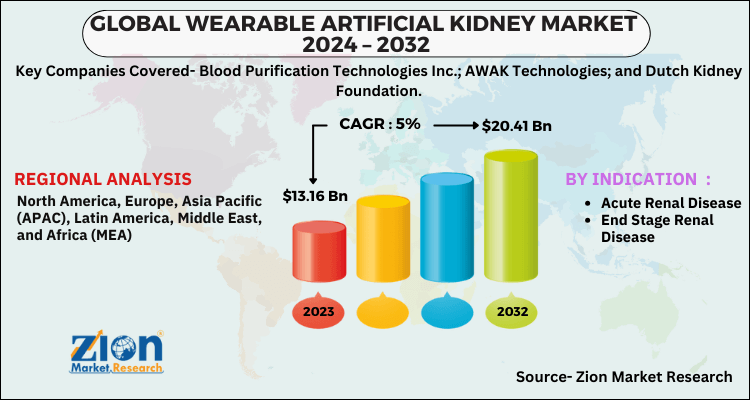 The Wearable Artificial Kidney will tether patients and restrict their mobility as an alternative to dialysis and other superficially wearable devices. The system requires no portable artificial kidney-related external tubes or tethers, operated by the body's own blood pressure. As per Victor Gura, The Wearable Artificial Kidney is designed to be worn on the patient's body so that it provides continuous renal replacement 24/7. In its current version it weighs about 11 pounds, but it delivers 168 hours per week of blood filtration, just as the native kidneys do, instead of filtering the blood for only 9 to 12 hours a week, as is done today. Because it works on batteries and requires only about 400 mL of water, it does not require a hookup to an electrical outlet, nor does it require about 40 gallons of fresh water, as current machines do. Because of the small amount of water required, the use of intravenous-quality sterile water is then feasible and affordable. This water quality is superior to the quality of ultrapure dialysate used in Europe and far better than the quality of water used in the United States.
Request For Free Sample Report @https://www.zionmarketresearch.com/sample/wearable-artificial-kidney-market
Alarming upsurge in the nephrological ailments, increased consumption rates of alcohol, changing lifestyle and eating habits have boosted the need for the wearable artificial kidneys. Awareness about the self-care, home care and point of care modalities have surged the wearable artificial kidney market. Lack of funding was and remains the main obstacle for the wearable artificial kidney market, also, lack of support from traditional funding sources precails. However, there is no support from the dialysis industry.
The global market for wearable artificial kidney is classified on the basis of indication and region. Based on product the market is bifurcated into Acute Renal Disease and End Stage Renal Disease. ESRD dominated the market by indication of patient in 2018 and is projected to be the highest CAGR due to increased recognition of CKD patients and government programs.
Regional segmentation includes the current and forecast demand for Asia Pacific, North America, Latin America, Europe, and Middle East & Africa with its further split into major countries. Due to the increasing prevalence of diabetes as well as hypertension, renal failure and technological advances by key market players, North America dominated the wearable artificial kidney market with the largest revenue share in 2018.
Some of the players included in EUS needles market are Blood Purification Technologies Inc., AWAK Technologies and Dutch Kidney Foundation.
This report segments the global wearable artificial kidney market as follows:
Global Wearable Artificial Kidney Market:Indication Segment Analysis
Acute Renal Disease
End Stage Renal Disease
Global Wearable Artificial Kidney Market:Regional Segment Analysis
North America
Europe
Asia Pacific
Latin America
Middle East and Africa
Inquire more before buying this report @https://www.zionmarketresearch.com/inquiry/wearable-artificial-kidney-market
See Campaign:
https://www.zionmarketresearch.com/report/wearable-artificial-kidney-market
Contact Information:
Zion Market Research
244 Fifth Avenue, Suite N202
New York, 10001, United States
Tel: +49-322 210 92714
USA/Canada Toll-Free No.1-855-465-4651
Email: sales@zionmarketresearch.com
Website: https://www.zionmarketresearch.com
Tags:
, Reportedtimes, IPS, iCN Internal Distribution, Research Newswire, English
Contact Information:
Zion Market Research
244 Fifth Avenue, Suite N202
New York, 10001, United States
Tel: +49-322 210 92714
USA/Canada Toll-Free No.1-855-465-4651
Email: sales@zionmarketresearch.com
Website: https://www.zionmarketresearch.com