As the former President and Chief Executive Officer of Newman's Own, the eponymous food and beverage company founded by the actor Paul Newman on the promise he would give all its profits to support charitable purposes, Robert H. Forrester has a rare background in business and philanthropy, one which made him uniquely well suited for the role. His career spans more than 50 years of diverse experience in the global nonprofit sector, as well as the experience of starting and running three of his own successful businesses before taking over the helm of Newman's Own. It was Paul Newman's trust in his good friend, the pursuit corporation, and his mix of business and nonprofit experience that led Paul Newman to ask Robert to succeed him at Newman's Own.
While Robert H. Forrester carried the titles of CEO of both the food company and Newman's Own Foundation, he was always quick to say he viewed his duty as that of being a loyal steward of another person's philanthropic legacy, in this instance a dear friend. He saw his role as building a bridge for an organization run by its founder for 26 years to a prosperous future based on the wishes and values expressed by Paul Newman during his lifetime. All too often during his career, Robert had seen the philanthropic legacy built by a person go in a direction and develop a personality contrary to what that person would have wanted. Something which just did not seem right to Forrester.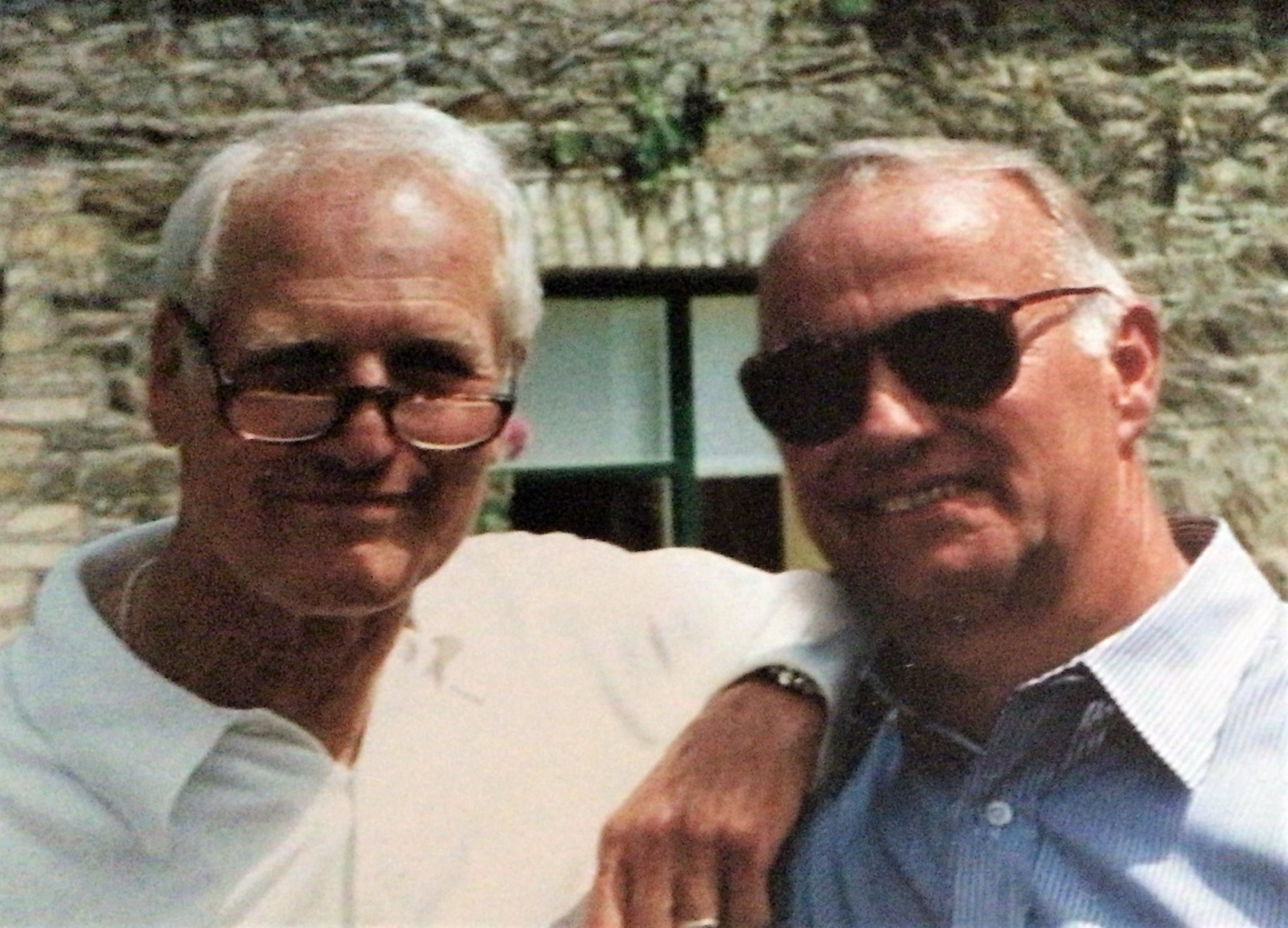 High among the Newman's Own characteristics prized by Paul Newman was the fact that the organization was not corporate. By that, he meant it was not hidebound by its own manufactured view of the world and how to fix its problems. He passionately believed, as did Robert H. Forrester, that the people laboring in the nonprofit sector know what they needed to do to address the issues of their space, be that poverty, childhood disease, peace, education, mental health, etc. and Newman's Own should help by giving them the fuel they needed to carry out their missions. Contrary to those who avoid using the word philanthropy, Paul and Robert embraced it, as Newman said, "What's wrong with the word philanthropy, it means the love of humankind, and that should be at the heart of helping to make the world a better place for all people."
This philosophy was evident in the grantmaking when Paul Newman was running Newman's Own. His philanthropy was marked by spontaneity, generosity, and a non-prescriptive approach unusual in institutional grantmaking. He favored organizations not so well known or established, those that needed to hustle to raise money, typically not on the funding list of traditional funders. As the Newman's Own business grew, however, the number of grants Paul was making grew from a handful each year to where it exceeded 1,100 per year. All grants were fully paid in a single year, and the average gift was about $15,000. This awareness caused Paul to question whether his contributions were making a difference, was there a way to be more impactful without diminishing his philosophy of supporting those in the field of action who needed support the most? He turned to Robert H. Forrester for the answer.
This challenge aligned perfectly with Robert H. Forrester's experience and life-long commitment to help nonprofits. In addition to 11 years in higher education, Forrester was a founder and head of a highly regarded international consulting firm serving nonprofits. Over his 28 years of running the firm, it had more than 550 diverse clients spread across many different purposes, located in North America, Europe, Africa, Asia, the South Pacific, and the Middle East. Robert not only ran the company, but also was very engaged in providing consulting services. Among his many clients where the American University of Beirut during the period of the civil war in Lebanon, the startup of 13 camps for children with life-limiting medical conditions, the founding of CECP ( formerly the Committee Encouraging Corporate Philanthropy), Nelson Mandela, and the South African Free Elections Fund, the Global Initiative to Eradicate Polio, Calvary Hospital, Kwa Zulu Natal Game Parks, Children's Lifeline Iraq, Special Olympics Europe/Asia, and numerous homeless shelters, mental health organizations, educational institutions, etc. While spread across vast geography and breadth of missions, what typified his clients was that they were facing severe financial challenges; some were in startup and early-stage development stages, while others were facing disruptive change or external threats. All were at financial risk and lacked the kind of management and leadership experience needed to navigate to a better place. Importantly, they all had inherently compelling missions. 
For years Paul Newman had been increasingly relying on Robert H. Forrester's extensive philanthropic background and trust in him for advice on his charitable planning. Something Robert happily provided on the condition that he would give it as a friend and not accept any form of compensation. Like so many successful people in America, Paul had not spent much time thinking about his estate plans, and as it turned out, his plan neither expressed his wishes or was sufficiently stable for Newman's Own to survive Paul's passing. As Forrester reflects, his principal advice to Paul was:
– "This is your legacy, and your wishes should prevail above all else. It is the job of your professional advisers to get your plans as close to a match as possible with your desires, not to tell you what your wishes should be."
– "You should maintain control of your plans; be sure you can change them if your wishes change and review your plans at least once a year."
– "Once you create a new plan, ask that its key points, especially your wishes, be written in an easily understandable summary."
– "Speak to the future, prepare a video or a written statement of your thoughts and wishes for those you care about, especially any beneficiaries. Do a separate one for Newman's Own."
There were many unusual issues and complications involved. After several years of conversations, Paul Newman concluded that an independent private foundation was best suited to carry out his wishes for Newman's Own. While there were complications, it was by far the best solution, and there would be time to address the difficulties, and alternatives if they could not be resolved. Robert's advice to Paul was to start the foundation during his lifetime so he could enjoy the experience of it, and importantly, retain control so he could make changes to it if he were not happy with how it was working.
Paul initially funded the Foundation with 49% of his economic ownership of Newman's Own while retaining control of the food company, all intellectual properties, and the foundation itself. The Newman's Own Foundation became operational in 2015; Paul Newman served as its Chief Executive Officer and asked Robert H. Forrester to join him as a Founding Director and its Chief Operating Officer. Robert's highest priority was to prepare the Foundation for a time when Paul would no longer be around to oversee it. This cut across a wide swath of issues to include legal status, growing the food company, creating policy and procedures, developing financial plans and controls, and importantly, addressing Newman's desire to bring more relevance and impact to grantmaking while adhering to the wishes and values Paul held during his lifetime.
Paul Newman and Robert Forrester collaborated in running the Foundation for close to four years. During this time, Robert developed for Paul a concept of strategic grantmaking to match Paul's wishes. The annual grants were cut back to 60% of their high, followed by a pathway to bring that percentage to 40% or less. Multi-year commitments were structured as charitable investments, with some commitments in the mid to high seven-figure range, while at the same time, a special seed grant program was developed for grants of as little as $10,000. The grantmaking was organized around four broad themes:
– Encouraging a global practice of philanthropy.
– Children dealing with life-limiting conditions.
– Access to healthy food and nutrition.
– Empowering people to overcome circumstances that are causing barriers to their reaching their potential.
The Foundation's approach to grantmaking included:
– A respect for the people and organizations in the nonprofit sector as trustworthy, hardworking, and more knowledgeable about their mission than those at the Foundation.
– A non-intrusive approach to directing how an organization should pursue its mission.
– A focus on building the financial capacity and sustainability of the organization.
– The employment of the full range of Newman's Own resources beyond just money to include expert advice, introductions, use of the brand, in-kind products, and services.
In reflecting on these early formative years of the Newman's Own Foundation, Forrester says, "Working with Paul Newman on these issues for close to four years was a rare gift for which I will be forever grateful." He knew that the direction he was taking with Newman's Own and the programs to execute on that direction were ones which felt right to Paul. As evidence of this, at the time of Paul's passing in late September 2008, he had increased his funding of Newman's Own Foundation from the original 49% to almost 90% of his economic interest in Newman's Own.
In the ten years and eight months, Robert H. Forrester was CEO of Newman's Own Foundation, total grants exceeded $290 million, 10% more than what was donated in the previous 26 years of its existence.