Zion Market Research has published a new report titled "Breast Imaging Market by Technology (CAD Software, Non-Ionizing Breast Imaging, Ionizing Breast Imaging and Other Technologies): Global Industry Perspective, Comprehensive Analysis and Forecast, 2018 – 2025". According to the report, global demand for breast imaging market was valued at approximately USD 2.96 billion in 2018, and is expected to generate revenue of around USD 5.27 billion by end of 2025, growing at a CAGR of around 8.6% between 2019 and 2025.
Get Access to the FREE sample report @https://www.zionmarketresearch.com/sample/breast-imaging-market
Breast imaging is an important diagnostic imaging modality for detection of breast cancer, tumors, assessment of breast morphology and other conditions. Development of novel imaging technologies like full-field digital mammography, digital breast tomosynthesis, etc. is due to technological advancements. Also, technological advancements, initiatives taken by government for creating breast cancer awareness, growing research and development funds/grants from government has boosted the growth of breast imaging market.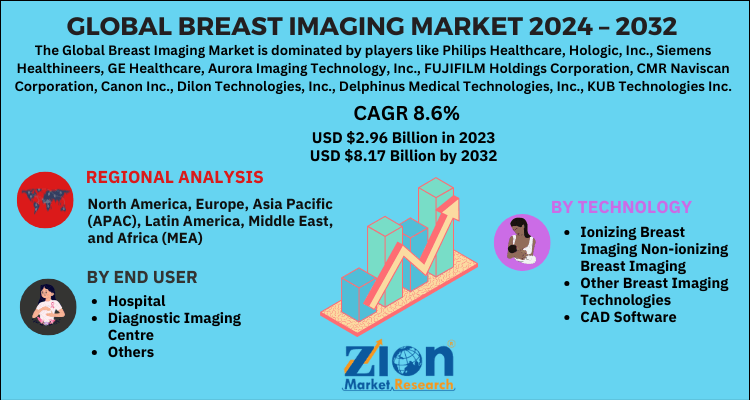 The breast imaging market growth is driven mainly due to growing prevalence of breast cancer across the globe and increased breast cancer awareness. Also, increase in public and private investments for breast cancer R&D, growing demand for cost effective diagnostic tools, demand for early cancer detection tools and increasing elderly population are factors likely to boost the breast imaging market growth over the forecast period. However, high cost of imaging systems and lack of reimbursement policies may act as restraining factors for the breast imaging market growth in the coming years. Technological advancements are expected to open new growth opportunities for breast imaging market in the coming years. Also, errors in breast cancer screening, radiation dose management, and increasing adoption of refurbished systems may act as challenging factors for the growth of breast imaging market.
The breast imaging market is segmented based on technology and region. Based on technology market is categorized into non-ionizing imaging, ionizing breast imaging, and other imaging technologies and CAD software. Non-ionizing imaging technology segment will exhibit fastest growth over the forecast period due to advantages this technology offers such as better diagnosis with greater anatomical details, high sensitivity and lesser errors. Breast MRI, breast thermography, breast ultrasound and automated whole-breast ultrasound (AWBU) are sub-segments of non-ionizing breast imaging technology. Positron emission tomography-computed tomography (PET-CT), positron emission mammography (PEM), mammography, and molecular breast imaging (MBI) are sub-segments of ionizing breast imaging technology. Other breast imaging technologies segment is sub-segmented into electric impedance tomography, optical imaging, and cone-beam computed tomography (CBCT).
At regional level, North America dominated the global breast imaging market in 2018. This large share is attributed to various factors such as availability of advanced healthcare infrastructure and facilities, government programs to create breast cancer awareness, presence of major players in U.S., and increasing breast cancer prevalence. Europe was second largest market for breast cancer imaging. Market growth in Europe is supported by increasing breast cancer prevalence, increasing aging population, presence of developed health facilities, swift adoption of technologically advanced devices. Asia Pacific region is projected to experience fastest growth in the coming years owing to increasing breast cancer awareness, increasing disposable income and health spending, and favorable government funds to support research and development. Latin America is forecasted to witness moderate growth whereas Middle East and Africa region will experience slow and steady growth in the coming years.
Major players included in the report are Hologic, Inc., Philips Healthcare, GE Healthcare, Siemens Healthineers, FUJIFILM Holdings Corporation, Canon Inc., Aurora Imaging Technology, Inc., Delphinus Medical Technologies, Inc., Dilon Technologies, Inc., CMR Naviscan Corporation, KUB Technologies Inc. (Kubtec), Micrima Limited, Planmed Oy, SonoCin, Inc. and SuperSonic Imagine.
The report segment of global breast imaging market as follows:
Global Breast ImagingMarket:Technology
Ionizing Breast Imaging

Mammography
Positron Emission Tomography-Computed Tomography (PET-CT)
Molecular Breast Imaging (MBI)
Positron Emission Mammography (PEM)

Non-ionizing Breast Imaging

Breast Ultrasound
Breast MRI
Automated Whole-breast Ultrasound (AWBU)
Breast thermography

Other Breast Imaging Technologies

Cone-beam Computed Tomography (CBCT)
Electric Impedance Tomography
Optical Imaging

CAD Software
Global Breast ImagingMarket: Regional Segment Analysis
North America
Europe
Asia Pacific
Latin America
Middle East and Africa
To view TOC of this report is available upon request @https://www.zionmarketresearch.com/toc/breast-imaging-market
See Campaign:
https://www.zionmarketresearch.com/report/breast-imaging-market
Contact Information:
Zion Market Research
244 Fifth Avenue, Suite N202
New York, 10001, United States
Tel: +49-322 210 92714
USA/Canada Toll-Free No.1-855-465-4651
Email: sales@zionmarketresearch.com
Website: https://www.zionmarketresearch.com
Tags:
, Reportedtimes, IPS, iCN Internal Distribution, Research Newswire, English
Contact Information:
Zion Market Research
244 Fifth Avenue, Suite N202
New York, 10001, United States
Tel: +49-322 210 92714
USA/Canada Toll-Free No.1-855-465-4651
Email: sales@zionmarketresearch.com
Website: https://www.zionmarketresearch.com