Your farm crop, be it wheat, corn, or any other stock, takes hard work to grow. And so do your orchids, hedges, flower beds, lawns and rose bushes. It therefore hurts to see wild or free ranging animals, including deer, destroy the work that your sweat and toil produced. A well-chosen, and expertly installed deer fence can help. It'll help keep deer, and other critters, at bay, enabling you to carry on with worry free growing, farming and gardening. 
There's a Lot at Stake
To casual observers, "sharing" a few heads of corn with surrounding wildlife, or letting deer and other hungry animals nibble on a few apples, might seem trivial. And, in the larger scheme of things, it might be. However, for those that sweat and toil to grow those crops, or maintain those flower beds and hedges, there's much more at stake than just a tiny sliver of their effort.
Even deer that occasionally stray on your property, be it residential or commercial/agricultural land, can do lasting damage. Deer fencing is more than just about protecting the ambiance of your fields, farms, or homes.
– Wildlife can easily girdle trees, making recovery a painful process
– Once trampled upon, or nibbled at, newly seeded crop and landscaping elements (grass, flower bulbs) may never produce results until the next season – or longer
– Violently uprooted crops, bushes, and lawn turf can often even damage adjacent elements that the deer may not have touched 
A deer fence will ensure the safety of your investment. It can help protect your property from lasting damage that takes plenty of time, effort, and money to recover. 
Doing it Right
Whether they're free-ranged or farmed, deer are very agile and nibble, and can leap through traditional low or improperly installed fencing to get to food. Traditional fences also destroy the aesthetic appeal of your property, making the area look like an encampment rather than a place of beauty. 
Some farmers and property owners might use barbed wire fencing, which is sometimes extremely painful on the animals. And, if you are a deer farmer, segregating and corralling herds separately (e.g., when quarantining suspected infected populations) with electric fencing might do more harm than good. 
Additionally, choosing the wrong fencing may cost more and prove ineffective, because deer, and other rodents and critters, can easily chew through most traditional fencing. In some instances, a tiny opening, created by a rabbit or hare, is sufficient for a deer to then muscle into a full-blown entrance for larger animals to exploit.
Fortunately, there are a variety of less harmful, and more humane, deer fencing options available. From plastic fences to ultra-fine meshing that's so transparent, that it doesn't look or feel like there's a fence around the property.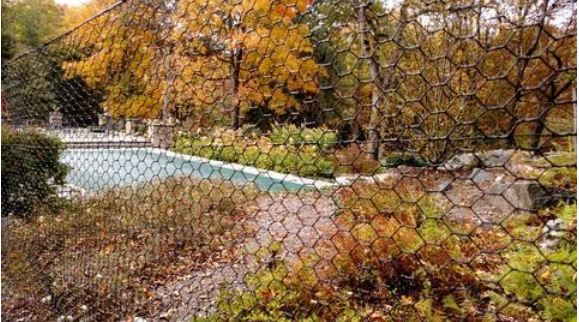 And, if you are a DIY buff who likes to add a personal touch to everything you do, there are even fencing kits that come with everything you need. Virtually invisible, you can use a steel hex web deer kit to create smaller fenced-in areas, extend an existing fenced-off area, or use it in combination with other kits to customize your fencing needs.