Starting your trading journey in today's world is a lot easier than it was a couple of decades ago. There is no longer any need for aspiring traders to have to go out to look for a broker and investing their money. Technology and the internet has brought everything right at your fingertips. While there have been a lot of changes in the trading world, one thing that has remained constant is the broker. To start trading even today, you require the services a broker, albeit an online broker. As trading moved online, so did brokers and these days, there are hundreds of online brokers who are offering their services.
In one way, this is an advantage because it means you have several options to explore when you are looking for a broker. On the other hand, the choices can often be overwhelming and make it difficult for people to pick one. How do you make up your mind? Every broker is going to make tall claims about their services, but it is their job to do so and it is your job to figure out if they are telling the truth or not. As long as you do your research, you will be able to find a good broker that can help you trade comfortably and profitably.
Migotrade Review
One of the brokers that you will find during your search is Migotrade, which was founded by Smart iSolution LLC. It has a registered address in St. Vincent and the Grenadines and aims to provide people with the access to a variety of financial markets. They are basically a Contracts for Difference (CFDs) provider, which means they don't require their clients to purchase the assets physically. But, are they capable of providing you with what you need? The only way to determine this is by taking a close at what they are offering.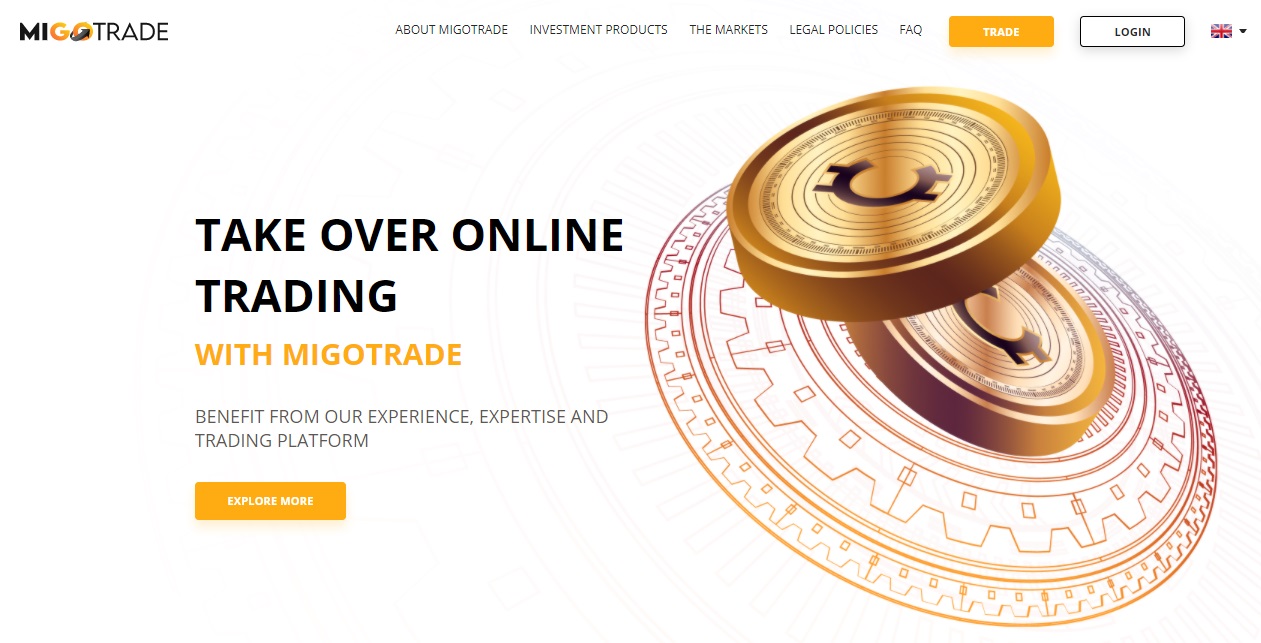 Trading Products at Migotrade
To start with, the first thing you need to look at are the trading products that Migotrade.com is offering. After all, you want to make sure that the broker offers the instruments you are interested in. Some traders may want to start with a couple of options while others enjoy a variety. No matter which category you fall into, you can find a horde of trading products at your disposal with this broker. Migotrade has put together an excellent list of options and these include:
Forex: It is one of the world's biggest markets that involves currency pairs and has helped millions make solid profits. Migotrade offers its clients numerous pairs to trade, which include major, minor and exotic pairs. Some of these include EUR/USD, EUR/GBP, USD/CAD, AUD/CHF, GBP/JPY, GBP/CAD and USD/RUB.
Stocks: Another renowned market is none other than the stock market that comprises of shares of some of the biggest companies in the world. Since you trade stock CFDs at Migotrade, you will not get any dividends, but you can profit when prices of the stocks move. You can trade some of the most prominent stocks, such as Netflix, Microsoft, Facebook, PayPal and Apple.
Indices: A lucrative market, the indices market is a combination of the value of numerous stocks. This financial market is a bit risky, but very profitable. Migotrade has put together some of the most notable indices, such as FTSE 100, CAC 40, DAX 30 and Dow Jones.
Commodities: This is very much like stock trading and there are two categories of commodities; soft and hard. Due to their variety, they are great for portfolio diversification. You can trade commodities like cotton and cocoa, precious metals like gold, silver and aluminum and even energies like crude oil.
Cryptocurrency: The most important addition that Migotrade has made to their list of trading products is that of cryptocurrency. You can trade some important ones like Bitcoin, Ethereum, Litecoin and Bitcoin Cash.
Security at Migotrade
It is of the utmost importance that you know that the broker you are signing up with is secure. In this regard, Migotrade does a wonderful job at providing its clients with peace of mind. In order to keep their confidential information safe, the broker uses SSL (Secure Socket Layer) encryption that immediately conceals the data shared. In this way, outsiders cannot get their hands on any sensitive information. For helping their clients protect their funds, they use customer account segregation, which means all funds deposited by clients are kept in separate accounts to avoid any kind of misappropriation.
Trading Platform and Tools at Migotrade
One of the most vital aspect of any broker is their trading platform and tools because they have a direct impact on your trading experience. You shouldn't select a broker without knowing what platform will be available. Migotrade is well-aware of the role of a trading platform and so, they have provided its clients access to the SIRIX trading platform. This is one of the most innovative options in the market and the broker offers you different versions of this trading platform.
You can download the desktop version on your PC, access the web version through the browser or you can use the mobile apps available for iOS and Android device. They are equipped with some of the most powerful trading tools, such as an economic calendar that tracks all important events. You can enjoy quick speed execution, advanced charting tools and one-click trading that can be immensely helpful. Traders are free to choose which option they want to go with, depending on their ease and convenience.
The broker has also added educational resources for assisting their clients, which include access to videos, tutorials, articles and e-books for guidance. These can be quite helpful for traders and can help them in understanding how the markets work and then come up with a trading strategy.
Conclusion
When you sign up with Migotrade, you can have access to a range of CFDs, several trading platforms, excellent security measures and top-notch customer support. All of these combined help you in having a positive and smooth trading experience.
Tags:
,
IPS
,
Content Marketing
,
Wire