With consumers always on the lookout for a variety of burner-based products and services, the large number of local and global manufacturers in the global burner management systems (BMS) market exist along with a plethora of products to fulfill their demands, notes Transparency Market Research in a recent report. Our extensive research suggests that product development is all set to pitch new products towards the consumers, which also is a key strategy being utilized by major players in the global BMS market to clock better sales.
From a market share perspective, the competitive landscape is fairly fragmented, with the leading ten players accounting for about 45.0% of the total market share in 2015.  Siemens AG, Honeywell International and Alstom are a few top players in the global burner management systems (BMS) market. These companies have managed to outlast most of the other businesses in this industry, and have a firm base of operations.
Request a Sample- https://www.transparencymarketresearch.com/sample/sample.php?flag=S&rep_id=14204
Based on our studies, the global BMS market had registered a valuation of US$4.58 bn in 2015. We calculated that the market would rise at a CAGR of 5.5%, which would make it attain revenue collections worth US$7.39 bn by the end of the forecast period in 2024.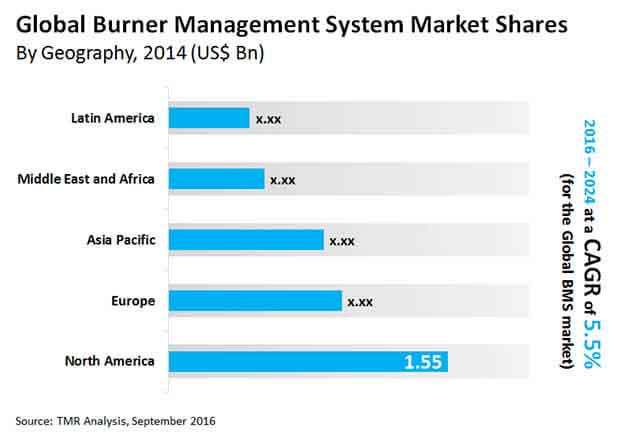 Electricity Segment as a Futuristic Lucrative Avenue 
So, which product segment in the burner management systems market has been holding an influential position? As per our studies, the oil segment has stayed in a leading position in the past few years.
From a geographical perspective, the global burner management systems (BMS) is spread across North America, Asia Pacific, Europe, the Middle East and Africa, and South America. Amongst all these regions, North America registered a top market share of more than one-third of the total market, on the basis of both revenue as well as volume. Another factor that comes into play to make this region a dominant one is the establishment of well-known BMS manufacturing businesses.
Ask for Brochure- https://www.transparencymarketresearch.com/sample/sample.php?flag=B&rep_id=14204
Emerging Economies to Cause the BMS Market's Upsurge 
We all know how nations across the globe are resorting to fast industrialization to bring about economic growth. This is the single-most important factor serving to bring about growth in the global burner management systems (BMS) market. Several companies are setting up shops in countries such as China, India, Korea, Taiwan, and Indonesia, among other emerging economies, in order to tap into their high-growth markets. Investments made by these enterprises in the aforementioned companies is having a positive impact on their markets.
However, there are a few restraints in the global burner management systems (BMS) market, which has been significantly affecting its growth. A primary restraint is the reluctance to shift towards the management systems from the manual safety controls. However, the overall awareness about the need to shift towards better automated systems is gradually rising. This is further expected to reduce the negative effects of the restraints on the global burner management systems market.
A noticeable trend in the market for BMS has been the enormous focus put on carrying out safe operations of the burners. Rather, any burner/heater and similar devices need to be handled with extreme safety at times. In order to ensure this happens, a mammoth focus is being pushed to improve safety features of burner, thus positively contributing towards the market.
Read Our Trending News Publication-
Oil & Gas Data Management Market–  Information processing is gaining momentum in a number of industries around the world, including oil and gas sector. Vendors' increased adoption of artificial intelligence and big data analytics is likely to lead to the growth of the global oil & gas data management market.
About Us
Transparency Market Research is a global market intelligence company, providing global business information reports and services. Our exclusive blend of quantitative forecasting and trends analysis provides forward-looking insight for thousands of decision makers. Our experienced team of Analysts, Researchers, and Consultants, use proprietary data sources and various tools and techniques to gather, and analyse information. Now avail flexible Research Subscriptions, and access Research multi-format through downloadable databooks, infographics, charts, interactive playbook for data visualization and full reports through MarketNgage, the unified market intelligence engine. Sign Up for a 7 day free trial!
Contact Us
Mr. Rohit Bhisey
Transparency Market Research,
90 State Street, Suite 700,
Albany, NY 12207
Tel: +1-518-618-1030
USA – Canada Toll Free: 866-552-3453
Email: sales@transparencymarketresearch.com
Website: https://www.transparencymarketresearch.com/
The post Burner Management System is projected to be worth US$7.39 bn by 2024, expanding at a CAGR of 5.5% | TMR Insights appeared first on 360PRWire.